During her eight years at Hillcrest School, third-grade teacher Kathy Farwell has not confined her work to the classroom.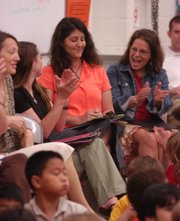 Her time organizing the school's science fair, attending PTO meetings and even running a bake sale to raise money for a student whose home burned were examples of her going "above and beyond," said Scott Matchell, manager of the Wal-Mart store in Lawrence.
Matchell and assistant manager Sarah Zink made a surprise visit to Hillcrest, 1045 Hilltop Drive, Tuesday morning to present Farwell with the company's local Teacher of the Year Award.
Students jumped to their feet to show their appreciation with a standing ovation during the assembly.
"With that amazing support, I guess this individual is obviously deserving," said Matchell, who manages the store at 3300 Iowa.
Farwell couldn't get past the shock of hearing her named called as she walked in front of the students in the gymnasium.
When she saw the oversized $1,000 check with her name on it from Wal-Mart, her eyes widened and she covered her mouth.
Farwell, who has taught at Hillcrest for eight years, will leave the school to teach first grade this fall at Prairie Moon School, 1853 E. 1600 Road, which is a developing Waldorf school that aims to foster both creative and analytical thinking.
But Tuesday was a time to enjoy her last few days at Hillcrest before the school year ends Thursday.
"It was incredibly heart-warming," Farwell said of the standing ovation she received.
She credited her students and the school's two other third-grade teachers, Jan Green and Angie Webb.
"It pretty much is a three-person award," Farwell said.
Wal-Mart and Frito-Lay also will donate a computer to the school for students to use.
Hillcrest Principal Tammy Becker said the school would miss Farwell - a teacher who "does it all."
"She's one of those teachers that will always step up if something needs to be done," Becker said.
Copyright 2018 The Lawrence Journal-World. All rights reserved. This material may not be published, broadcast, rewritten or redistributed. We strive to uphold our values for every story published.