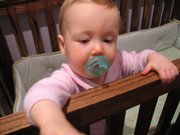 Waking with my daughter
The clock next to my bed reads 5:42 a.m. when I turn and see the red lights on the baby monitor spike as an insistent cry bursts out of the speaker.
My 10-month-old daughter is awake, and I can tell by her tone that she's hungry.
I fumble for my glasses in the dark and shuffle down the stairs to her bedroom, where I find Ella standing up in her crib, calling out to be rescued.
"Hello, my love," I murmur, as I lift her out of bed. Like magic, her whining stops.
I settle into the plush chair in the corner, fold her into my arms and nurse her. In the soft glow of the night-light, I can see her sweet face, eyes closed as she breathes steadily between swallows.
Outside, the sun is rising. Light leaks around the wood blinds, and birds sing their morning songs. I think about work, what Ella will wear today and how I could use another hour of sleep. I wonder how many other moms across town are up with their babies. I appreciate the stillness of the moment, when I can snuggle with my active daughter without her wriggling away.
Normally, Ella would finish eating and I would lift her to my shoulder, gently patting her back as I walked toward her crib. I'd sway back and forth, say a silent prayer and lay her back down.
But this morning she sits straight up and smiles. She's awake for good.
Looks like I won't get that extra sleep after all.
Copyright 2018 The Lawrence Journal-World. All rights reserved. This material may not be published, broadcast, rewritten or redistributed. We strive to uphold our values for every story published.