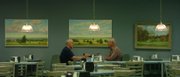 Butch Lacock and Claude Geiger have much in common. Native Kansans, they served in the Army and boast of a combined 72 years at the U.S. Geological Survey.
They live in west Lawrence and enjoy retirement. Their days start with the same ritual: rise at 6 a.m., read the Journal-World and at 7 a.m. on Tuesdays and Thursdays have coffee at the Hy-Vee on Sixth Street.
There they discuss politics, religion, current events, the weather, growing up in Kansas and former workdays.
"We are moderates," Lacock explains.
"Our discussions are civil," quips Geiger.
Today's main topics are raised water levels and the Greensburg tornado.
"The weather in Kansas is violent. You just have to accept it and take heed," Lacock says.
Their memories take them back to the tornado that ripped through Lawrence in 1981.
"No warning," they both say.
In retirement, the men savor the gentler pace of life. For instance, Lacock likes to "drown worms" in Clinton Lake and is a driver for a car dealer.
Technology abruptly ends the "earlier days" conversation.
Lacock answers his cell phone and accepts a driving assignment. The two friends move toward the door, coffee cups still in hand.
Copyright 2018 The Lawrence Journal-World. All rights reserved. This material may not be published, broadcast, rewritten or redistributed. We strive to uphold our values for every story published.