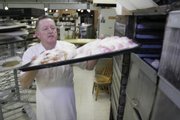 Since December 1989, when he bought Muncher's Bakery, Mike Tennyson has been preparing the pastries that Lawrence residents can't get enough of.
"It's one ingredient at a time or nothing," Tennyson says. "That's what our customers expect and that's what I do every night."
About 2:30 a.m., Tennyson is preparing cream cheese pastries, flattening the dough on a "reversible sheeter" machine. Then, using a pizza cutter he slices the dough into individual squares. Next he adds the cream cheese and then wraps the dough around it. The "frymaster" is waiting.
"This long table used to have a big blob of dough on it," he says, referring to the very first step of baking. "Soon, they'll be finished and enjoyed in the morning."
Tennyson, who has also worked at bakeries in Peoria and Topeka, is used to the routine of baking at odd hours. He doesn't start making the apple strudel doughnuts until 3:10 a.m., sprinkling the apple slices and cinnamon sugars onto a new blob of dough.
"This one will be gone soon, too," he said.
The Reed Reel Oven looks ancient at first glance. The cinnamon rolls slowly rotating inside as they bake.
"They don't even make those (ovens) anymore," Tennyson jokes. "It all comes out the same, and people love it."
Tennyson's sister Gayle has been working alongside her brother for 28 years. Gayle designs and prepares cakes for weddings, graduations and any other celebration.
"It's been as busy as ever right now," she says, adding a flower design to a cake for an upcoming graduation. "Each cake takes time, but I love the independence of it all."
Copyright 2017 The Lawrence Journal-World. All rights reserved. This material may not be published, broadcast, rewritten or redistributed. We strive to uphold our values for every story published.