Determined not to let a single graduation-day memory pass him by, Mike Koenig walked down Campanile hill Sunday wearing a baseball helmet with a video camera duct-taped to the top.
Photo Gallery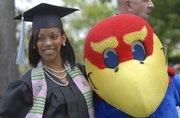 KU graduation 2007
The apparatus has been a hit with friends since Koenig started wearing it to parties earlier this year.
"Everybody talked me into wearing it at graduation," said Koenig, 22, an Overland Park graduate in sports management.
Taylor White, 24, Shawnee, carried her Yorkshire terrier mix, Maddox, who was wearing a dog-sized mortarboard.
"He does everything with me," White said.
They were some of the estimated 4,000 KU graduates who made the walk down Campanile Hill on Sunday at the school's 135th commencement ceremonies. KU Chancellor Robert Hemenway told crowd members it marked the beginning of a "clear and unequivocal" identity for the students.
"Forever more, you are a Jayhawk," he said.
The ceremony included a moment of silence for victims of the devastating tornado in Greensburg early this month and the massacre of more than 30 people at Virginia Tech University in April.
Nelson Galle, chairman of the Kansas Board of Regents, told students they were entering a "fast-break" world in which they'll be required to be global citizens. He drew a smattering of boos at the mention of tuition.
"I know what you paid because I approved it," he said. "If your parents want to get a bite out of me, they can see me after this commencement."
Early in the afternoon, students began gathering on Memorial Drive, organized by school.
Kappa Kappa Gamma sisters Kacie Dienstbach, Kelsey Walsh, Lara Slack and Natalie Houlik all wore multicolored sombreros as they posed for a photo with the Big Jay mascot.
"Our graduation party's theme is 'Fiesta,'" Dienstbach said.
"Fiesta de Graduation," Houlik said.
Elly Mwei, 28, a biology student from Kenya, was accompanied by nearly 20 members of his extended family, some of whom wore traditional Kenyan dress. They were planning to go back to Overland Park, where Mwei lives, later Sunday and celebrate with barbecued goat.
Hsinlun Lee, 31, waited in the shade alongside his pregnant wife, Chiawen Cheng, 30, as he prepared to receive a master's degree in computer engineering. To celebrate, they're going back to Taiwan today to visit family for the first time in two years.
"I met a lot of people here and they helped me a lot, either with schoolwork or personal things,' he said.
Francie Boyer, 23, Overland Park, who has performed as the Baby Jay mascot for the past year, wore her cap and gown along with Baby Jay's oversized, puffy yellow boots. She said she wasn't worried about tripping.
"I'm used to it," said Boyer, who received a degree in marketing and plans to go to law school.
Along with the graduates came upward of 20,000 proud friends and family members. Terry Guidry came from Wichita to watch his family friend Samuel P. Allen III. John and Janet Engelmann of Overland Park waited just north of the Campanile to catch a glimpse of their daughter, Katie, who was graduating with a degree in art history.
"She's looking for work if you know of anything," John Engelmann said.
About 25 of Cornelius Carter's family members came from Wichita to watch him graduate with a Spanish degree.
"I'm glad he made it," said his father, Cornelius Sr. "It means the world to me."
Copyright 2018 The Lawrence Journal-World. All rights reserved. This material may not be published, broadcast, rewritten or redistributed. We strive to uphold our values for every story published.