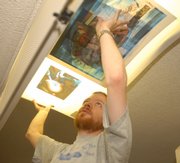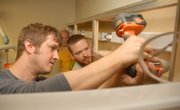 Julie Branstrom loves the current location of the Douglas County Dental Clinic.
There's just one problem - a lot of blank, white walls.
"I think there's always some fear associated with the dentist," Branstrom says. "It's magnified when it's not part of your routine, and a lot of patients who come here are in crisis. They're in pain. Having something to look at on the wall takes their mind off of it."
A group of Kansas University art students are hoping to help with that.
They recently completed a set of artworks for the children's operatory at the clinic, 316 Maine.
Don't expect to see the typical motivational posters you might find in other dental offices - the type that might show a kitty hanging from a branch with the caption "Hang in there!"
This is interactive, multidimensional, educational art designed specifically for this location.
"I think just having an opportunity to see this type of art here will be unexpected," says Chad Askew, a graduate student from Kansas City, Kan. "It catches your attention."
The students, who are part of the "Drawing Connections: Art at Work" class, made three different types of art for the small operatory space:
¢ A set of clipboards holding photographs of patients and staff from the clinic, taken by clinic staffer Ray Muñoz. Students hope young patients take the clipboards down from their location and color, draw or write on papers to add their own art to the project.
¢ Transparency photographs that are installed in a set of light boxes that surround the inside of the operatory. The light boxes mimic X-ray boxes. Again, the photos are of patients and staff members.
¢ An elaborate artwork that will hang from the ceiling. It overlays photos of a mouth with a photo of the St. Louis arch, alluding to the idea that the mouth is the gateway to the entire body.
The project was initiated about six months ago by the KU Center for Service Learning. Students and Carol Ann Carter, who teaches the class, met with Branstrom to identify needs and figure out the logistics of the project.
"I see the clinic as a gallery for the artwork the students want to hang," Carter says. "There is a captive audience here, and you get people you wouldn't get in a museum."
The clinic offers free and low-cost dental care to the poor and uninsured. It's been at its current location for about a year.
Branstrom wants to make it look less like a clinic.
"Just because we treat people who are low-income and uninsured doesn't mean we shouldn't have good equipment, and it doesn't mean we shouldn't have good things on the wall to see," she says.
Carter says she hopes other KU classes will take on art projects in other parts of the dental clinic, including the waiting room and other operatories.
Megan Graf, a senior from St. Louis, says she hopes patients feel more comfortable going to the dentist because of the artwork.
"It makes it less scary," she says. "It's more warm."
At the same time, she thinks public art such as this project might make patients more comfortable approaching the world of fine arts, too.
"It makes art more accessible, too," Graf says. "The fine arts world can be intimidating. I think public art helps break that down."
Copyright 2018 The Lawrence Journal-World. All rights reserved. This material may not be published, broadcast, rewritten or redistributed. We strive to uphold our values for every story published.