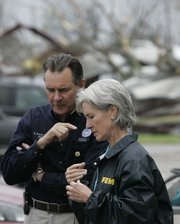 Topeka — When concrete plans take shape to rebuild Greensburg from the tornado that destroyed it, some are hoping the town will emerge as a "green" model of energy efficiency and rural spirit.
"It's really a golden opportunity. Rarely do you have a situation where you can start with a clean slate," Chris Kliewer, president of the Wichita chapter of the American Institute of Architects, said Friday.
Kliewer sent Gov. Kathleen Sebelius a letter saying AIA would support efforts to rebuild the southwest Kansas town by sharing the latest trends in technology and architecture.
"I am excited about the possibilities for creating hope in Greensburg and making this small town known for much more than this tragic event," Kliewer said.
Lt. Gov. Mark Parkinson also said rebuilding Greensburg can display the can-do attitude of rural America.
"As the country watches Greensburg rebuild and its city leaders express an interest in creating a greener Greensburg, we have a chance to demonstrate that rural Kansas is, and will always be, an important part of our future," he said.
Eight days ago, a massive tornado leveled the town of 1,400 people, killing nine people and destroying more than 90 percent of the town's buildings. Greensburg is about 270 miles from Lawrence, in south-central Kansas.
Sebelius said she has talked with local officials about the possibility of rebuilding the town with energy-efficient buildings and using sustainable energy sources, such as wind.
"We have the opportunity of having the greenest town in rural America," Sebelius said.
House Democratic Leader Dennis McKinney, whose home was destroyed by the storm, said it's something that has gained some traction locally.
"We have an opportunity to build a community, highly efficient energy-wise, and wired with the latest broadband," said McKinney, D-Greensburg.
He said despite the devastation, residents are optimistic about the future.
He said someone told him "whoever thought that at our age we would get to rebuild a community," he said.
Joseph King, a Lawrence architect, said the move toward a green town will have to be driven by local leaders in Greensburg.
"I would love to see them pursue it, but it won't be easy," King said.
Greensburg residents only recently started to bury their dead and sift through the rubble of their homes.
Tons of debris remain to be cleared and utility services are starting to be restored.
"The community is still grieving and trying to recover, but you know the planning stages will start quickly," Kliewer said.
Copyright 2018 The Lawrence Journal-World. All rights reserved. This material may not be published, broadcast, rewritten or redistributed. We strive to uphold our values for every story published.