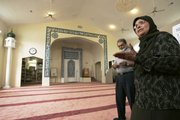 CHERRY HILL, N.J. — He railed against the United States, helped scout out military installations for attack, offered to introduce his comrades to an arms dealer and gave them a list of weapons he could procure, including machine guns and rocket-propelled grenades.
These were not the actions of a terrorist, but of a paid FBI informant who helped bring down an alleged plot by six Muslim men to massacre U.S. soldiers at New Jersey's Fort Dix.
And those actions have raised questions of whether the government crossed the line and pushed the six men down a path they would not have otherwise followed.
It is an argument - entrapment - that has been made in other terrorism cases, and one that has failed miserably in this post-Sept. 11 era.
One defense attorney on the case, Troy Archie, said no decision has been made on whether to argue entrapment, but based on the FBI's own account, "the guys sort of led them on."
Rocco Cipparone, a lawyer for another one of the defendants, said he will take a hard look at "the role of paid informants and how aggressive they were in potentially prodding or moving things along."
The Fort Dix Six were arrested earlier this week after a 15-month FBI investigation that relied heavily on two paid informants who secretly recorded meetings and telephone conversations in which the suspects talked of killing "in the name of Allah."
U.S. Attorney Christopher Christie defended the government's handling of the case. He and the FBI portrayed the defendants as Muslim fanatics who were nearly ready to strike. They were arrested Monday night during what the FBI said was an attempt to buy AK-47 machine guns, M-16s and other weapons.
Prosecutors portrayed the six men - Serdar Tatar, 23; Agron Abdullahu, 24; Mohamad Ibrahim Shnewer, 22; Dritan "Anthony" or "Tony" Duka, 28; Shain Duka, 26; and Eljvir "Elvis" Duka, 23 - as driven by hatred of America, a description disputed by relatives and acquaintances.
"I never in my wildest dreams imagined what they've been accused of," said Ismail Badat, trustee of the Islamic Center of South Jersey in Palmyra, where the Duka brothers worshipped.
The same documents that prosecutors used to build a case against the suspects also depict them as somewhat disorganized, lackluster plotters. And clumsy and amateurish, too: The FBI learned of the alleged plot when the men went to a Circuit City store and asked a clerk to transfer a jihad training video of themselves onto a DVD. Also, they mistakenly thought an AK-47 costs $500, instead of $1,500 to $3,000.
Also, one of the men, Tatar, called a Philadelphia police officer in November, saying that he had been approached by someone who was pressuring him to obtain a map of Fort Dix, and that he feared the incident was terrorist-related, according to court documents.
Copyright 2018 The Associated Press. All rights reserved. This material may not be published, broadcast, rewritten or redistributed. We strive to uphold our values for every story published.