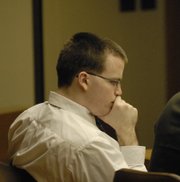 Jason Rose just finished testifying in his own defense during his trial on murder and arson related to the 2005 Boardwalk Apartments fire.
"Did you start this fire?" defense attorney Ron Evans asked him.
"No, I did not," Rose answered.
"You swear that to this jury?" Evans asked.
"Yes," Rose said.
During about 40 minutes of testimony, Rose told jurors that he made up his confession to police that the jury watched on videotape last week. In the videotape, Rose tells detectives after hours of interrogation and several changed stories that he went to the second floor of the building and set fire to a box full of birthday cards and photographs.
"I thought if I thought of something that they would believe, they would leave me alone," Rose said on the stand today.
Rose also denied to jurors that he ever had a problem with setting fires and said he had never been in trouble for starting fires in foster care.
On cross-examination, prosecutor Amy McGowan asked Rose to take jurors through all the things he said to police during his interview and point out which statements were lies. In the end, McGowan asked whether the only thing he told police the truth about was that he'd worked at Taco Bell that night, put $10 of gas in his care, arrived home at 11:30 p.m., and watched TV inside his apartment.
"That's what you want the jury to believe?" she asked.
"Yes," Rose answered.
Earlier, testimony in a murder and arson trial this morning centered on a woman's claim that she overheard the defendant saying he planned to set a spectacular fire as soon as he moved out of foster care and got his own apartment.
"He said that once he moves out into his own place, he's going to set it on fire," witness Emily Robinson said, describing a statement she says she heard defendant Jason Rose make during a church youth-group meeting a few months before the October 2005 fire at Lawrence's Boardwalk Apartments. "He said it would be the biggest, most beautiful fire he had seen."
Robinson, 21, testified that Rose made that statement amid a group of four people in summer 2005 at Lawrence's Victory Bible Church. But Rose's defense attorney is challenging the story and said Robinson is "alone" in claiming she heard Rose make the statement.
Robinson didn't take her story to police after the fire, which killed three people, injured seven people seriously, and destroyed the block-long building where Rose lived. Her account only came to light in February during Rose's first trial, after she made an online posting in The Journal-World's online reader-reaction under the name "truth_society." That trial ended in mistrial after prosecutors tried to introduce her previously unknown testimony.
Asked why she didn't come forward sooner, Robinson said it was partly because she didn't want the attention and partly because she thought other people would have taken the same concerns to police.
Robinson is an employee of Free State Studios, which is owned by The World Company, the same company that owns The Journal-World.
"Working for the media, knowing that I might get exploited, I didn't know what to expect," she said. "I had a lot of fear about what people would think....I also didn't go forward because I thought other people did already."
She made the post, she said, because she wanted to spur conversation about the subject and because she'd noticed nothing about the comments had come out in media accounts of the first trial.
Robinson testified that she told youth leaders about the conversation the same day it happened. But the next witness in the case, Lesley Mutuku, who was a youth leader at the church at the time, testified she recalled Robinson coming to her about it only after the fire happened.
Copyright 2018 The Lawrence Journal-World. All rights reserved. This material may not be published, broadcast, rewritten or redistributed. We strive to uphold our values for every story published.