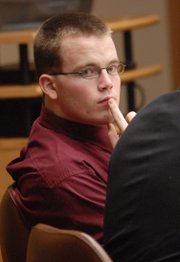 In video footage and during witnesses' testimony, a blocklong deadly inferno that killed three people in October 2005 came roaring back to life Tuesday in Douglas County District Court.
"It was just the hottest, angriest, hugest fire you've ever seen," said Leigh McHatton, who suffered burns on her hands, feet and face while running through flames to flee the Boardwalk Apartments fire in the 500 block of Fireside Drive.
McHatton was the first victim to testify during what's expected to be a two-week trial for Jason A. Rose, 21, a former apartment resident charged with setting the fire. His first trial on murder, arson and battery charges ended in mistrial in February after prosecutors learned of a new witness midway through the proceedings.
As in the first trial, prosecutors are working their way through the case in chronological order - starting with descriptions of the three-story blaze early on the morning of Oct. 7, 2005, and taking jurors through the investigation that led to Rose.
"Who did this? Who set fire to a building full of people in the middle of the night, when many of them would be asleep?" Assistant District Attorney David Melton asked the jury during his opening statement. "The evidence is going to show, ladies and gentlemen, that it's this man right here. His name is Jason Rose."
Confession challenge
At the center of the case is Rose's disputed confession to police. Melton told jurors they would see the video in which Rose admits to detectives that he set the fire to see something burn.
"This case is deceptively simple, and at its heart are two questions: One, was the Boardwalk fire intentionally set? And two, did Jason Rose do it?" he said. "In both cases you will find that the answer is 'yes.'"
But defense attorney Ron Evans said in his opening statement that the truthfulness of Rose's confession is the "$64,000 question" in the case, and that he started to make admissions to police only after "hours of denials." He said a psychologist would testify about Rose's limited mental abilities related to abuse he suffered as a chid.
But Melton said videotaped interviews will show that "the defendant was not the victim of any kind of police coercion or trickery."
Said Evans, "You can come to your own conclusion : about whether they treated him fairly or not. : At the end of the case, I submit that you'll have a reasonable doubt, and we'll be asking you to find him not guilty."
Witness accounts
Witnesses on Tuesday included Lawrence police officers Max Miller and David Ernst, some of the first emergency workers at the fire. Miller described helping catch people with a blanket as they jumped from burning apartments, and Ernst described finding McHatton on the ground outside the building and pulling her to safety.
Andrew Dobson, who lived in the building across the street, described waking up and seeing the light from the fire.
"I noticed through the bedroom door that the living room was orange," he said. At first he thought he'd left a light on, but when he opened his front door, he said he was "immediately struck by the heat."
Prosecutors played a 10-minute video Dobson shot of the fire. It shows the building engulfed in fire and includes the sound of crackling flames and people shouting, "Get back!"
"I can't stand there. It's too hot," Dobson says at one point on the video.
Three people died in the fire: Kansas University student Nicole Bingham, electrician Jose Gonzalez and social worker Yolanda Riddle. Rose is charged with three counts of murder, one count of aggravated arson and seven counts of aggravated battery related to people who were seriously injured in the fire.
"You do not have to find that Jason Rose intended to burn the entire building down - only that he intended to set fire to part of the building," Melton told jurors. "You do not have to find that Jason Rose intended to kill anyone, and you do not have to find that Jason Rose intended to hurt anyone."
Testimony in the case will resume this morning.
Copyright 2018 The Lawrence Journal-World. All rights reserved. This material may not be published, broadcast, rewritten or redistributed. We strive to uphold our values for every story published.