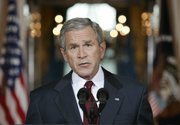 Washington — President Bush vetoed legislation to pull U.S. troops out of Iraq Tuesday night in a historic showdown with Congress over whether the unpopular and costly war should end or escalate.
It was a day of high political drama, falling on the fourth anniversary of Bush's "Mission Accomplished" speech declaring that major combat operations had ended in Iraq.
In only the second veto of his presidency, Bush rejected legislation pushed by Democratic leaders that would require the first U.S. combat troops to be withdrawn by Oct. 1 with a goal of a complete pullout six months later.
"This is a prescription for chaos and confusion, and we must not impose it on our troops," Bush said in a nationally broadcast statement from the White House. He said the bill would "mandate a rigid and artificial deadline" for troop pullouts, and "it makes no sense to tell the enemy when you plan to start withdrawing."
Democrats accused Bush of ignoring Americans' desire to stop the war, which has claimed the lives of more than 3,350 members of the military.
"The president wants a blank check," said House Speaker Nancy Pelosi, D-Calif., moments after Bush's appearance. "The Congress is not going to give it to him." She said lawmakers would work with him to find common ground but added that there was "great distance" between them on Iraq.
Bush will meet with congressional leaders - Democrats and Republicans alike - today to discuss new legislation.
He said Democrats had made a political statement by passing anti-war legislation. "They've sent their message, and now it's time to put politics behind us and support our troops with the funds," the president said.
He said the need to act was urgent because without a war-funding bill, the armed forces will have to consider cutting back on buying or repairing equipment.
"Our troops and their families deserve better, and their elected leaders can do better," Bush said.
Copyright 2018 The Associated Press. All rights reserved. This material may not be published, broadcast, rewritten or redistributed. We strive to uphold our values for every story published.