Photo Gallery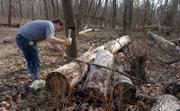 Kansas River Expression of Soul Project
Del Christensen moved last fall to the north end of Louisiana Street, where railroad tracks cut through the short span that separates his home from the woods that line the Kansas River.
Since then, he's noticed that a handful of deer, a red fox and a woodchuck frequently wander through his yard on their way to the stand of trees and underbrush. The four-legged travelers are signs, Christensen says, that the nearby woods are crawling with wildlife. So when the Lawrence painter and sculptor heard about a proposal for an environmental art project along the Kaw between Burcham and Constant parks, it tripped an internal alarm.
"I walk down there, as a lot of people do, just to go to a place where you don't see much evidence of human beings," Christensen says. "There are no buildings, no formal sidewalks. It's a dirt path through the trees and along the river, and I think of it as a great resource for the city. To have something like that right at the end of Mass. (Street) seems like something to protect."
He's not the only one who feels that way. Organizers of the artistic venture, led by Leavenworth artist Marie Thompson and dubbed the "Kansas River Expression of Soul Project," say they want to raise awareness of the riparian ecosystem - even create artwork that would double as animal habitat - without harming it.
Yet their efforts have been facing mounting criticism in recent weeks from environmentalists, artists and residents of the adjacent Pinckney neighborhood who believe the project would do more harm than good in one of the few remaining fragments of woodlands in the city. One opponent is even circulating a petition against the plan.
In response to the concerns, Lawrence city commissioners, who unanimously approved the concept in October, are planning to reconsider the proposal in the coming weeks.
As it stands, the project would consist of some 250 yards of wood chip trails, approximately six sculptures constructed of natural materials found on site, an outdoor classroom for Kansas University sculpture students, and a riverbank stabilization project made of recycled concrete blocks to be installed upstream from the woods by Burcham Park.
Matt Kirby, the Baldwin City artist and self-proclaimed environmentalist who designed the stabilization sculpture, says he's been surprised by the objections and believes they stem from a lack of understanding of the project.
"I think most people think of public art as a statue on a pedestal," Kirby says. "This is a place where different ideas about the human imprint on the natural world can be explored. People are encouraged to make as low an impact as possible and yet make a piece of art.
"One approach an artist could take would be to find out what animals are there, find out what their favorite food is and make a sculpture out of it - allow what is created to be consumed by its surroundings."
Harming habitat
On the surface, such an approach may sound harmless. But members of the Jayhawk Audubon Society aren't convinced.
They support many of the goals of the "Expression of Soul" group: to educate the public about the river ecosystem, facilitate interactions between artists and scientists, encourage work by local environmental artists, stabilize the riverbank and clean up trash in the area.
But they'd like to see a more concrete plan for the project, which so far has developed rather organically. And they're gravely concerned about the proposed site, which they contend serves as habitat for more than 210 species of migratory birds.
"Rather than improving the habitat, the alterations proposed by the KREOS Project will make it less attractive to some of these species," Lisa Grossman, a Lawrence painter and spokesperson for the society, wrote in a March 7 letter to KREOS organizers. "Clearing of trees or undergrowth, or spraying herbicides (including for poison ivy, which is an allergen only to humans), will make it less desirable for rarer bird species and encourage more common or invasive species."
The letter indicates the society would consider participating in the project if the following recommendations were adopted:
¢ A detailed plan for implementation
¢ A long-term maintenance plan
¢ Clear guidelines for what is environmentally appropriate, developed by a team of scientists
¢ An advisory panel of scientists working in ongoing collaboration with the artists
Ideally, Grossman says, organizers would simply refocus their attention on an area that could benefit from habitat improvement and beautification, like the open lawn spaces on either end of the trail.
Back to nature
Relocating to an open space, however, would completely change the character of the project, says KU sculpture professor John Hachmeister.
He's hoping to use KREOS to expose university students to the concept of environmental work along the lines of that created by internationally renowned British artist Andy Goldsworthy. Goldsworthy has been known, for instance, to line depressions in rocks with pigment from red sandstones, use thorns to pin together elaborate nets of plant material, or stack slate stones into man-sized egg shapes on the beach.
In each case, the work proves ephemeral, disappearing when the rain cleans the rocks, the wind obliterates the nets or the rising tide claims the eggs.
"What's going on in our society is a disconnect with materials, with nature," Hachmeister says. "People buy 20 acres, and the first thing they do is clean out everything under the large trees so it has a park or golf course look, but they've eliminated all ground-level habitat."
Preaching at people isn't going to stop this behavior, Hachmeister says. Art, however, can start productive conversations about important issues, such as humans' interaction with the natural world and how nature ultimately conquers what man creates.
Hachmeister doesn't suspect scattering wood chips along already existing paths and cutting back a little poison ivy will have much impact on the woods. But he says, like others promoting the project, that he's flexible.
"There's already a lot of human activity down there - parties, large piles of booze bottles, already existing paths for whatever people are doing. I like the idea of creating an interface between the natural world and human activity," says Hachmeister, who also plans to create artwork for the area. "If it turns out to be a really bad idea, a year later you wouldn't even know we'd been there."
Wrong place
Marie Thompson, a member of the Lawrence Art Guild, dreamed up the KREOS Project in December 2005 as an opportunity to unite Lawrence's artistic and scientific communities to focus some positive attention on the river.
She quickly enlisted the support of the guild, as well as local environmental artists Kirby, Hachmeister and Stan Herd. She also asked community organizations and local scientists - like Kelly Kindscher of the Kansas Biological Survey and Orley "Chip" Taylor of Monarch Watch - to act as consultants.
In January 2006, the Parks and Recreation Advisory Board voted to support the project, and the Lawrence Arts Commission approved the concept at its September meeting.
But after a publicized walk-through of the proposed site in January, critics started coming forward.
Among them are Katie Euliss and Mike West (the bluegrass duo Truckstop Honeymoon), who live near Fourth and Mississippi streets and often take their two young daughters for walks along the riverbank. Since finding out about the project, Euliss has written two letters to the Journal-World expressing her opposition to the project and started a petition to stop it.
"It's invasive. There are plenty of parks that could use these kinds of things," Euliss says. "I think it's some artists that want to have a venue for their work without really considering the impact it's going to have on the little bit of nature that's left down there."
On the contrary, organizers say, the project's environmental impact continues to be a concern. Stan Herd, who's playing an advisory role, says he's been amazed at what he's learned about the site since first touring it several months ago.
"It may be that that's the wrong space. I don't know," he says. "I think a consensus will develop."
Monarch Watch Director Chip Taylor can't deny that he's excited about the possibilities the project offers his cause. He's interested in planting several varieties of milkweed in open spaces throughout the site to serve as host plants for butterfly larvae as part of the year-old Monarch Waystation Program. The measure would create new habitat for monarch butterflies that migrate through the area.
"We're losing a lot of habitat. It's one of the things that we can do something about," Taylor says. "Quite frankly, I have no idea whether there will be any significant habitat destruction. If there is, I wouldn't be in support of the project."
Biologist Kelly Kindscher has said the same.
Doing the right thing
Fundraising continues for the project. Thompson is not asking the city for any money, but instead is working to raise $150,000 in grants and private donations to cover expenses and pay artists. Parks and Rec has agreed to maintain the trails, and Thompson is working with Westar Energy to take advantage of a program that provides volunteer labor for projects that create interaction with the environment.
Attempting to dispel rumors about the project, Thompson says the trails will not be paved, trees will not be cut down and sculptures within the wooded area will be created only with natural materials designed to decay.
Any permanent sculptures would be installed only along the existing trail or in the adjacent parks and would have to be approved by the Arts Commission and the City Commission, as does all permanent sculpture within the city. Commissioners likely won't revisit the proposal until after the April 3 election.
In the meantime, Thompson welcomes discussion.
"This is not about them or us," she says. "This is about coming to an agreement where everyone can be happy and doing the right thing for that piece of land."
Copyright 2018 The Lawrence Journal-World. All rights reserved. This material may not be published, broadcast, rewritten or redistributed. We strive to uphold our values for every story published.