A proposal to turn a portion of the Kansas River bank area near downtown Lawrence into a unique environmental sculpture garden is gaining momentum.
About 20 interested artists, environmentalists and city leaders hiked Friday through the 25-acre section between Constant Park and Burcham Park near Second and Indiana streets.
"I think we could really be right on the cutting edge here," John Hachmeister, associate professor of sculpture at Kansas University, said of a plan to create pieces of "environmental art" that also would serve as a wildlife habitat along the Kansas River.
Leavenworth-based artist Marie Thompson introduced the idea for "Kansas River Expression of Soul Project" in July. She said the project would include a trail along the river and through the woods that cover much of the area between the two city parks. Along the trail there would be up to six permanent pieces of art and at least twice that many temporary pieces created by KU students and other artists.
But all the art would be unique in that it would fit into the Kansas River ecosystem. For example, one piece proposed by Baldwin artist Matt Kirby would use leftover cement from a local cement plant to create uniquely shaped objects that would be placed along the river bank. The concrete blocks would help stabilize the riverbank and also provide new habitat for a variety of animals.
Other projects would be smaller in scale. For example, one artist Friday demonstrated how he could weave vines found in the forest to create unique shapes and structures. Organizers acknowledge that much of the smaller art could be destroyed by floods or other natural events that happen along the river, but they said that would help ensure that there are always new items for people to see.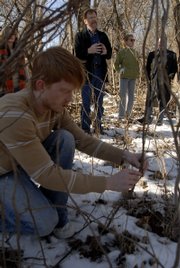 Local artists who attended the Friday tour were optimistic that the project could grow into something big.
"I think in the next 10 years we'll be talking about a much larger project," said Linda Baranski, president of the Lawrence Art Guild. "Maybe the river could be a focal point for a weeklong art festival. It could be something that would create tourism."
The project has the backing of city leaders. Fred DeVictor, the city's director of parks and recreation, said his department had agreed to maintain the trail and sculpture area once it is created.
"The river is a real important resource," DeVictor said. "The more we can do to get people down here, the better."
But the city has not committed any funding to the project. Instead, Thompson said she'll begin seeking corporate support to raise $150,000 to buy benches, trash cans, trail material and to pay the six artists who would create permanent pieces of art, which will be designed to withstand flooding in the area.
Thompson, though, said the project would begin before the fundraising is complete. She said a team of volunteers from Westar Energy had agreed to help clean up the trail and pave it with wood chips. She hopes that work will begin in late February and to have a ribbon cutting and dedication ceremony in late summer.
Copyright 2018 The Lawrence Journal-World. All rights reserved. This material may not be published, broadcast, rewritten or redistributed. We strive to uphold our values for every story published.