New York — The St. Patrick's Day Parade stepped off at 11 a.m. Saturday - but the firefighters didn't get going on until nearly two hours later.
Way ahead of them were members of the Police Department and the Fighting 69th infantry regiment, and waves of bagpipers and step dancers in orange, white and green.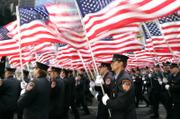 It was an unprecedented position for the FDNY, which usually joins the police and infantry at the front of the annual march enjoyed by 2 million onlookers.
But parade organizer John Dunleavy moved them to the middle of the pack of 150,000 this year, claiming they had slowed down and showed up drunk to past parades.
The accusations, made to the weekly Irish Examiner, have been bitterly disputed by the Fire Department and elected officials - and added an element of controversy to this year's procession.
"Dunleavy's got no respect for firefighters," firefighter Mike McCrory said on the parade route.
Marching beside presidential hopeful and former Mayor Rudy Giuliani, Long Island Rep. Pete King declared that Dunleavy "is just wrong."
"The parade is not about John Dunleavy," he said. "The parade is about New York, and the FDNY personifies the spirit of New York. But fortunately not many people pay much attention to John Dunleavy."
Not positive attention, anyway.
"I think the chairman is out of his mind," said John Luckey, 48, a spectator who wore a chunky green sweater decorated with shamrocks.
Tom Fitzpatrick, 71, who was marching among bagpipers, quipped that the band "probably won't play a tune" for Dunleavy.
"We'll play an English tune instead," he said, adding, "There's not a drunk among us."
And John Kelly, 69, a piper, summed up his feelings by modifying a traditional Irish song.
"Some say the Devil is dead and buried in Killarney," he sang. "Some say the devil lives again and his name is John Dunleavy."
New York Mayor Michael Bloomberg encouraged revelers to focus on cultural pride.
"Forget about politics and let us all celebrate what is great about America," he said.
And most paradegoers seemed to take his advice.
Bedecked in every conceivable shade of green, they waved Irish and American flags and shamrock favors.
The Department of Transportation painted a green line down the middle of Fifth Ave., but the snow and salt washed it away.
The weather, however, didn't stop the people and politicians from lining the route of the nation's largest St. Pat's party.
"This time they have me in front of the horses," Sen. Chuck Schumer, D-N.Y., quipped. "That shows the Irish like me."
Copyright 2018 The Lawrence Journal-World. All rights reserved. This material may not be published, broadcast, rewritten or redistributed. We strive to uphold our values for every story published.