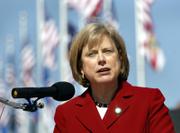 Topeka — The United States can't leave the war in Iraq open-ended and pour military resources into a conflict that isn't going well, Rep. Nancy Boyda said Friday.
Boyda, a Democrat representing the state's 2nd District of eastern Kansas, said the military's personnel and equipment are worn out after nearly four years in Iraq. Her district includes Forts Riley and Leavenworth, and 6,000 troops from Fort Riley are deployed overseas.
"America's military is battered, and now our nation must seriously discuss how best to deploy our depleted forces against the dangers of our day," she said. "In this age, when we face so many perils, from sinister terrorists to an unstable North Korea to a belligerent Iran, do we truly want to devote so many precious resources to an open-ended Iraq war?"
She supports a House spending bill headed to the floor for debate next week because it establishes oversight to the war and sets conditions for redeploying from Iraq. If the Iraqi government meets deadlines set by President Bush, the military stays to help with reconstruction. If not, it comes home.
"I believe these benchmarks are necessary to convince both the Iraqi government and President Bush that times have changed. Congress and the American people will no longer tolerate an endless war," said Boyda, a member of the House Armed Services Committee who recently visited troops in Iraq.
Boyda said the $124 billion supplemental budget bill also includes money for construction of new facilities at Fort Riley and Fort Leavenworth. She said the Department of Defense would release about $325 million for construction, including several projects related to the expansion of troop levels at Fort Riley.
That expansion was dictated by the 2005 Base Realignment and Closure process, which returned the 1st Infantry Division from Germany and is expected to swell the soldier population to more than 18,500 in the coming years.
Rep. Jerry Moran, a Republican who represents the 1st District of western Kansas, said despite the release of the dollars that work remained to secure the rest of the funding to complete all projects on time to meet needs at the post.
"It is imperative that projects at our Kansas military posts remain on schedule, so the announcement by the Army is a step in the right direction," Moran said.
BRAC-related projects were underfunded by about $3 billion in a spending bill passed by Congress in January.
Republicans blasted Boyda and her fellow Democrats, accusing them of voting against soldiers and Kansas military installations by voting for the measure.
Rep. Todd Tiahrt, a Republican representing the 4th District of south-central Kansas, said Friday that he wouldn't support the bill if Democrats didn't fully fund the soldiers at war. He also opposes restrictions on how long they can be deployed.
"I believe that we should let the troop commanders decide what military strategy is best for our troops, not the men and women serving in Congress," Tiahrt said.
Boyda maintains that she had nothing to do with the military construction funding not being included in earlier spending bills, saying that was left incomplete by the previous Republican majority in Congress. Tiahrt and Moran voted against the spending bill approved in January, saying it neglected the needs of Kansas installations.
Copyright 2018 The Associated Press. All rights reserved. This material may not be published, broadcast, rewritten or redistributed. We strive to uphold our values for every story published.