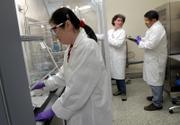 Now that its ultra-clean lab and equipment have been cleared for production, CritiTech Inc. is preparing to make about 300 grams of medicine for what it sees as a pivotal step in the Lawrence company's efforts to fight ovarian cancer.
CritiTech announced this week that its crystallization center in western Lawrence has been qualified to handle good manufacturing practices (GMP) production of active pharmaceutical ingredients.
The qualification means CritiTech can make its own batches of its proprietary drug formulation, called Nanotax, so that the cancer-fighting compound can be used in human trials.
"It's a pretty big milestone," said Sam Campbell, the company's chairman and chief executive officer. "If everything goes as planned, this year will be a very pivotal year for us."
CritiTech creates Nanotax by reformulating another cancer drug so that the chemotherapy can be administered with little or no side effects.
The reformulation uses CritiTech's patented crystallization process, using compressed carbon dioxide, to shrink the size of the drug's particles, so that the cancer-fighting medicine no longer must be carried into the body by a toxic solvent. Instead, Nanotax suspends the submicron-sized particles in simple saline solution.
"We basically remove all the side effects," Campbell said.
Nanotax is set to enter phase 1 human trials later this year at Kansas University Medical Center. Campbell anticipates taking the treatment into phase 2 trials, which would include more patients, late next year.
"We hope that it can be in the market in two or three years," Campbell said.
CritiTech was formed in 1997 by the KU Center for Research Inc. and the Higuchi Biosciences Center at KU, as an outgrowth of professor Bala Subramaniam's research in super-critical fluid technology. Today, Campbell is among the company's 65 shareholders, many in the Lawrence and Kansas City area.
CritiTech - now with a team of a dozen full-time and part-time scientists, consultants and others - counts some of the world's largest pharmaceutical companies among its clients, Campbell said, and qualification of the company's lab clears it for production of certain medicines on behalf of such major companies.
While Nanotax, for now, is focused on treating ovarian cancer, the company intends to apply the technology to treatments for pancreatic and other cancers.
Copyright 2018 The Lawrence Journal-World. All rights reserved. This material may not be published, broadcast, rewritten or redistributed. We strive to uphold our values for every story published.