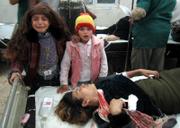 Baghdad, Iraq — A suicide car bomber killed 20 people Saturday in Baghdad's notorious Shiite militia stronghold of Sadr City, showering shrapnel over a joint U.S.-Iraqi military outpost in an ominous sign of violence returning to Iraq's capital after a brief lull.
The blast ripped through an Iraqi army checkpoint at a southern entrance to the district, and six of the dead were soldiers, the U.S. military said in a statement.
An Associated Press reporter traveling with U.S. troops nearby said bits of metal and glass flew as far as the joint security station 300 yards from the blast site.
U.S. military officials at the station said 20 people were killed, and Iraqi police said nearly 50 were hurt.
At a hospital where victims were taken, AP Television News footage showed doctors stitching up patients' wounds in a hallway, with IV bags propped on a dirty ledge. One victim wailed as he held a bloody bandage to his eyes, damaged by flying debris.
The attack was especially ominous because it struck in the stronghold of the Mahdi Army militia of anti-American cleric Muqtada al-Sadr. The young cleric had agreed to withhold his armed militia from the streets during the U.S.-Iraqi security crackdown.
Such attacks could encourage al-Sadr to send them back to protect Shiites if U.S. forces and the Shiite-led government of Prime Minister Nouri al-Maliki cannot.
The blast came a week after U.S and Iraqi troops poured into Sadr City, facing no resistance in the former combat zones. The U.S. foray has tested the Shiites' commitment to the security plan and to turning to U.S. troops and Iraqi forces for their protection.
Hours before the bombing, Iraqi special forces backed by U.S. soldiers raided a house in Sadr City and captured six men believed to be rogue members of the Mahdi Army, accused of involvement in kidnappings and killings, the U.S. military said.
Saturday's uptick in violence came as international envoys huddled in Baghdad for talks on how to pacify the country and bolster its U.S.-backed Shiite government. Two mortars fell near the Foreign Ministry where delegates had gathered, sending a plume of smoke into a garden outside but injuring no one.
Ahead of the summit, U.S forces killed one suspected militant and captured 27 others in raids across Iraq, the military said. Among those detained was an alleged member of the Islamic State of Iraq, an al-Qaida-linked group that rejects the authority of Iraq's elected government and seeks to impose Islamic law.
Iraqi officials on Saturday said they were questioning a top al-Qaida figure captured a day earlier in a raid west of Baghdad. The suspect originally was identified by Iraqi officials as Abu Omar al-Baghdadi, the so-called "emir" of the Islamic State of Iraq.
But the Iraqis later backed off and said another top al-Qaida leader had been captured.
"After preliminary investigations, it was proven that the arrested al-Qaida person is not Abu Omar al-Baghdadi, but, in fact, another important al-Qaida official," said Brig. Gen. Qassim al-Moussawi, an Iraqi military spokesman. Al-Moussawi declined to give the suspect's name.
Copyright 2018 The Associated Press. All rights reserved. This material may not be published, broadcast, rewritten or redistributed. We strive to uphold our values for every story published.