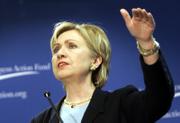 Washington — Hillary Rodham Clinton offered a new GI Bill of Rights for men and women in uniform, arguing that Democrats can do a better job of protecting and providing for U.S. troops than the Republican administration.
"This administration is frankly unable to run a two-car parade," the Democratic presidential candidate said in a speech at the Center for American Progress, a think tank run by former Clinton White House aide John Podesta.
The New York senator, who leads early polls of Democratic contenders for the party's nomination, said she would put together a package of proposals designed to ensure troops have all the equipment they need when they're deployed, to ensure they receive proper health care, and to provide for families.
"I am here to say the buck does stop with this president and if he doesn't take responsibility, I can assure you that the next president will," the Democratic senator said Thursday.
Republicans dismissed her criticism as campaign posturing.
"It's the politically convenient calculation that Americans have come to expect from the senator," said Republican National Committee spokeswoman Tracey Schmitt.
Her proposals include pre-screening troops for physical and mental conditions before they are deployed, and giving single parents in uniform more guardianship options.
She also insisted more needs to be done for those suffering traumatic brain injuries, which she called "the signature injury of the war in Iraq."
Her call for better benefits for troops comes amid a public outcry about conditions at outpatient facilities at a Washington military hospital roughly seven miles from the White House and Congress.
"In the leadership vacuum that has been left by the Bush administration, too many members of the military and their families have been left literally holding their breath," Clinton said.
Copyright 2018 The Associated Press. All rights reserved. This material may not be published, broadcast, rewritten or redistributed. We strive to uphold our values for every story published.