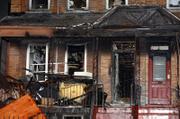 New York — Screams poured from the burning building along with smoke and flames: "Help me! Help me! Please! Please!" Bystanders looked up to see a woman toss two children out the window one at a time to those below.
The scene unfolded early Thursday during New York's deadliest fire in nearly two decades - a blaze that killed eight children and one adult, part of an extended family led by African immigrants who shared a row house near Yankee Stadium.
The children tossed from the three-story building survived, authorities said. The woman who threw them jumped and survived.
The fire was sparked by an overheated space heater near a mattress in a basement bedroom, then raced up a stairway pushed by air from broken back windows, said Fire Chief Salvatore Cassano. Most of the 22 residents - 17 of them children - were stranded on the upper floors as the blaze raged for two hours.
Neighbor Edward Soto ran toward the fire, then stared in disbelief as an infant was tossed from the building.
"All I see is just a big cloud of white dust, and out of nowhere comes the first baby," said Soto, who caught the child while with another neighbor. Moments later, he caught a second child. At least one of the children was not breathing.
Firefighters worked for two hours in freezing predawn temperatures to bring the flames under control. The home had two smoke alarms, but neither had batteries. Police said there was no evidence of a crime.
The dead were found throughout the house, mostly on the upper floors. The victims included five children from one family, along with a wife and three other children from a second family.
The death toll might have been higher if not for the efforts of Soto and another neighbor, David Todd.
Todd, 40, who lived next door, said one child was already on the ground in the yard when he arrived with Soto outside the burning home. "Please God, help my children!" the woman inside screamed while tossing the children out.
Another neighbor, Elaine Martin, said flames were shooting from the building when she arrived, and a shoeless woman in a nightgown stood crying in the street.
"My kids is in there, my kids is in there," the woman wailed to Martin.
The home did not have a fire escape and was not required to under city building codes. There were no complaints or violations on record against the building, constructed in 1901.
Copyright 2018 The Associated Press. All rights reserved. This material may not be published, broadcast, rewritten or redistributed. We strive to uphold our values for every story published.