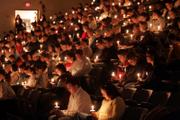 Atlanta — Tony Moore and his college baseball teammates were jolted awake when their bus slammed against a concrete barrier and dropped off an overpass. At least two students were trapped, one player had already died and diesel fuel was leaking, survivors and family members said.
It would be hours before the team, and those left behind at their tight-knit Ohio campus, would know the toll: Four Bluffton University teammates dead, plus the driver and his wife. Twenty-nine were injured, although only eight remained hospitalized on Saturday evening. Five were in serious or critical condition, and the rest were in fair or stable condition.
Moore said he fell asleep on the bus floor after a late night of watching movies, listening to music and chatting about the eagerly anticipated spring training.
The next thing the 21-year-old junior remembers is hitting the rail on an Atlanta interstate overpass early Friday, rolling around and "the final slam in the ground."
The bus was traveling to Florida for the team's annual spring training trip when the driver apparently mistook an exit ramp for a lane and went off the side of an overpass spanning Interstate 75.
The National Transportation Safety Board said it wasn't clear why the driver went on the ramp. There were tire marks, but it wasn't clear when the driver realized his mistake and tried to correct it.
Numerous crashes have happened at that uncommon left-side, HOV exit, board member Kitty Higgins said Saturday. No signs are visible that tell drivers to slow down for the ramp that ends at a T-intersection on the overpass, she said.
Moore was trapped between bus seats until his teammates pulled him out. For a long moment, they stood looking at each other in the pre-dawn darkness inside the bus that had fallen 30 feet.
The legs of Mike Ramthun and Chris Bauman were pinned beneath the bus. Moore and other teammates tried to calm them, telling them help would be on the way. They got the roof escape hatch open and stumbled out on the freeway.
"We were trying to get everybody loose off," Moore said. "Everybody was still in shock."
Copyright 2018 The Associated Press. All rights reserved. This material may not be published, broadcast, rewritten or redistributed. We strive to uphold our values for every story published.