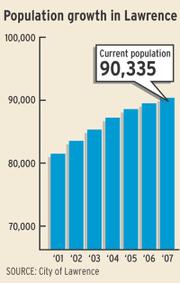 Lawrence's population growth continues to be stuck in low gear.
According to a new report released by the city's Planning Department, the city's population grew by 0.97 percent in 2006 to a total of 90,335 people. The growth rate is less than half the city's historical average of 2 percent.
"I'm glad we're showing some growth," Mayor Mike Amyx said Friday. "But we need to understand that it isn't what it has been in the past. We need to understand why."
Perhaps as importantly, the city needs to figure out whether this is the new trend for Lawrence. The new population estimate marks the third year in a row that city planners have said the community's growth rate is less than the 2 percent average. The question looms large because the city has committed to build a new sewer plant that is based on a growing population to help pay for the $70 million cost.
The city has developed a plan to use increasing sewer rates to pay for the plant, but if the population doesn't increase as much as expected, those rates may have to increase even more. City Manager David Corliss said he doesn't think that's likely, but he has staff members reviewing the sewer plant plans based on the new population numbers.
Some city commissioners also said they were not convinced that the slower growth rates were here to stay.
"I think it is too early to sound that alarm," City Commissioner Sue Hack said. "I think all the indications are that this part of the state is going to continue to grow. But we also know there are reasons that some people don't live here. Cost-of-living is one of them, and we have to address that."
Corliss agreed that the community was in a position to have higher growth rates in the future. He said the community's "fundamentals," such as good schools, good amenities and a good location were still attractive to new residents. And, he said, an increased emphasis on economic development would create more jobs to fuel population growth.
"I'm not the only one saying that," Corliss said. "I think all the city commissioners agree with that. That is why you have seen the City Commission put more resources into economic development."
Lawrence is spending more than $200,000 per year to fund the city's biosciences effort, is considering buying the vacant Farmland Industries property to convert into a business park, has created a $250,000 infrastructure incentives fund to help attract new businesses and will hire a new economic program coordinator to work in City Hall.
According to the city's estimates, the community grew by 2,038 people in 2001. In 2006, there were only 875 new people.
The Census Bureau is scheduled to release its population estimate for the city in early April. Last year, the Census Bureau estimated that the city actually experienced a slight decline in population for the first time in decades. The city, however, challenged that ruling, and the Census Bureau later revised the estimate to show a slight increase in population.
Copyright 2018 The Lawrence Journal-World. All rights reserved. This material may not be published, broadcast, rewritten or redistributed. We strive to uphold our values for every story published.