According to a new survey, Trejeonna's face does a pretty good job of representing the face of Lawrence homelessness.
It's a young face.
Trejeonna is 6 months old and has spent most of her life between the Lawrence Salvation Army shelter and the Lawrence Community Shelter.
A new census of the Lawrence homeless population found that the majority of homeless people in the city are either children or parents of young children.
"The results were stunning, to be honest," said Shirley Martin Smith, chairwoman of the city's Community Commission on Homelessness. "For the past five years, the public's focus has really been on the homeless population that people see in downtown Lawrence, but there's a lot more to it than that."
The census - taken by Lawrence service providers as part of a Department of Housing and Urban Development grant program - found that on Jan. 29 more than 413 individuals in the city were homeless. The largest single category of homeless were parents with children. There were a total of 81 homeless families, which accounted for 232 people.
"The fact that over half of our count are families with children, we think is a pretty significant finding," said Margene Swarts, community development manager with the city's Neighborhood Resources Department, which is compiling a report based on the numbers. "It is something we're really going to have to take into consideration as we figure out how to go forward as a community."
Photo Gallery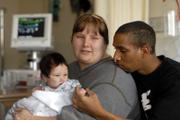 Homeless families
High rents
Eileene Miller-Green, Trejeonna's mother, said the numbers didn't surprise her. She said she knows how easy it is to find yourself homeless.
"The rent is really high because it is a college town," Miller-Green said. "That's the main thing. There's just a lot of families who can't earn enough income to make a living."
She's been homeless since late October. She and her husband, Darcel Green, got into financial difficulties after she was ordered to be on bed rest while she was pregnant. Darcel was working a minimum-wage job in the fast-food industry, but the single income wasn't enough to pay the more than $400 a month in rent and utilities for their apartment.
The family has been staying in The Salvation Army shelter ever since they were evicted. But the shelter isn't open during the day, which means Miller-Green and Trejeonna would spend most of their daytime hours at the Lawrence Community Shelter's drop-in center.
"I don't really like it there," Miller-Green said. "There are too many people there with too many different problems. It's not a good place for a child."
Danielle Rowley, a case worker at The Salvation Army who works with Miller-Green, said one of the community's larger gaps in services for homeless families is the lack of a day shelter for homeless families. Rowley recently helped get Trejeonna into a day care.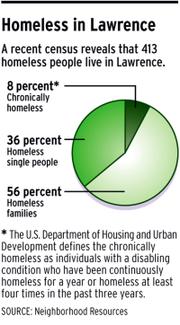 "Prior to that, there were a lot of days that Trejeonna just went wherever Eileene did out in the cold," Rowley said.
Other findings
The census found that the city had 32 people who met the federal definition of chronically homeless. That involves being continuously homeless for more than a year or at least four times during the past three years.
Advocates for the homeless said they were encouraged by that number because it represented a manageable number of people to help. If those homeless individuals can be helped, that also probably would help ease many concerns that the community has about homeless activity.
"I think it's the people who are chronically homeless who are probably the people who are most involved in the activities that the community finds most objectionable," said Helen Hartnett, an assistant professor of social welfare at Kansas University. "Those are typically the people who need the most resources in the community. This is telling us that we're talking about a manageable number."
The total number of 413 homeless people represents a large jump in the number of homeless people in the community, according to past surveys. In 2005, the last year the community did a count, there were 113 people identified. But homeless advocates immediately discounted those findings, saying that the survey came at a time when there were high tensions between the homeless and business communities, and thus many homeless people declined to participate.
Previously, though, the general consensus has been about 200 people in the community were homeless. Both Swarts and Martin-Smith, however, said they didn't think the new numbers meant there had been an explosion in the city's homeless population.
Instead, they said it represented a better effort on the part of service providers to accurately count homeless individuals, especially those who are part of a family.
The city in the last year added four new case managers to a Bert Nash Community Mental Health Center program that conducts homeless outreach. Swarts and Martin-Smith said the addition of those workers greatly added to the number of people census workers were able to identify as homeless.
Homeless advocates also urged community members to not try to compare the number of homeless people in Lawrence with the number of homeless people in other communities. In Wichita, for example, workers there did a similar survey in January and found 526 people, despite the city being about three times the size of Lawrence.
Hartnett, though, said survey methods vary so much that it is difficult to compare the counts from community to community. Martin-Smith said she expected some people would use the numbers to argue that Lawrence had become a magnet for the homeless. She said she didn't buy that argument.
"I don't understand why they would come here, especially the large number of families that we're showing here," Martin-Smith said. "We don't have a lot of services for those families."
Copyright 2018 The Lawrence Journal-World. All rights reserved. This material may not be published, broadcast, rewritten or redistributed. We strive to uphold our values for every story published.