Chat about homeless issues with Steve Ozark
January 25, 2007
This chat has already taken place. Read the transcript below.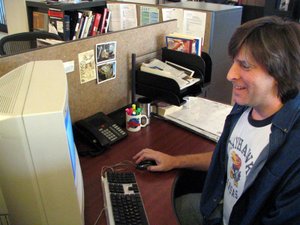 A longtime advocate for increased services for the homeless wants to have a question on the April ballot asking voters to make funding the issue a top priority. Steve Ozark, vice chairman of the Coalition on Homeless Concerns and the coordinator for the Interfaith Initiative, has asked city commissioners to give voters in the April city elections an opportunity to support additional funding for homeless and poverty-related programs. He takes your questions Thursday.
Moderator:
Hi, everybody. Welcome to today's chat. I'm Christy Little, your moderator. Today we have Steve Ozark, of the Coalition for Homeless Concerns, to talk about recent issues in the news.
Steve Ozark:
Hello.
Moderator:
First, Steve, some of our readers may not know what you do in the community. Would you tell us a little bit about yourself?
Steve Ozark:
I am simply a peson who advocates helping people in need. I got involved some five years ago when the Salvation Army didn't have staff to stay open during the brutal winter. So I reached out to the community and people were willing to help. So I am no expert, but I've studied poverty and homelessness locally and on a national level, and I see fixes in our gaps in Lawrence so we can give people a hand up moreso than a handout.

Moderator:
Steve, can you tell us about the referendum you proposed to the City Commission last week and why you think it's important?
Steve Ozark:
I believe we are losing community focus on taking care of the gaps in our system of services. I want to see what people in Lawrence think of when they hear the word "homeless" and try to change some prejudices that many of us may have. For example, homelessness as we know it today didn't exist in the great numbers we have now (750,000 people are known to be homeless in the U.S.). In the 1980's the Federal Government stopped funding many programs that helped fight poverty, so we have brought homelessness to the richest country in the world by neglect.
Moderator:
So if funding were available, what do you think would be the best use for it? Would it be temporary housing assistance, counseling, job placement ... what are the top priorities? And who would distribute it?
Steve Ozark:
My opinion and research is showing that the Housing First model is working in big and small cities. San Francisco has done a great job of getting more than 1,500 people off the streets and into housing with wrap-around, supportive services. In two years, 85% of those folks are still houses. That's not only humane, it saves a lot of money. A trip to the emergency rooms costs as much as a month's rent, sometimes more. So housing first is what I'd recommend, but we have other gaps in Lawrence that need to be addressed. The City appointed the CCH (Community Commission on Homelessness) to enact the Task Force Recommendations, which I was a part of. They are focusing now on a detailed shelter that would give adequate space, programs and beds instead of a 1/2-inch mat on the floor. So that is very important as well.
Moderator:
OK, we'll take some questions now from our readers.

If additional funding comes from the taxpayers, would you object to increased vagrancy laws and enforcement?
My concern is that currently in the City there are several resources available to transients, but those resources are not utilized because of the requirements related to sobriety. My fear is if we make Lawrence a haven for homeless it will be in effect an open door policy that will just continue to need more financial resources.

Steve Ozark:
Regarding people flocking to Lawrence, I think that is grossly exaggerated, although people do come here from other towns, just I did, and most of the people I know in town are from elsewhere. So whether your houses or unhoused, Lawrence is a great community. There are severly limited resources and I'm all for putting the resources where they will 1) prevent homelessness, 2) help people on the streets get off the streets. People who want to abuse the system, as I am told, leave town because they are found out and not given carte blanche. People breaking the law should be charged. But I don't think poverty is a crime. I would not be for increased vagrancy laws - it criminalizes a public health issue. I would say that most all the people on the street do not want to be there. I have only once seen a group of young guys who were passing through during the summer. Many of our homeless citizens are just that - citizens of Lawrence.
IS there a way with in the confines of our local debat to define the difference between assistance and enabling?

Steve Ozark:
That's a very touchy subject I've found. I imagine that each individual sees this issue differently and so your or my definition may be totally off base. The positive way to work with individuals in need is to meet them where they are at, understand their goals, their dreams, their triggers, their problems and their various needs. When relationship is formed, trust can be built. Very few people I meet on the stret have ANY sense of self-value. Their emptiness and lack of value is painful to experience. Anyway, for me, I never give out money to individuals, I try to give out opportunites. Food and shelter are basic human needs and should be given, but if we get on the front end of prevention and housing, we will have more people working their way out of homelessness, which is the goal. I'm sorry not to better answer your question. That issue is dealt with by each person who serves people in need.
Mr. Ozark, Please tell me how you would hold the homeless people who receive our money accountable for their actions. I think most people would support help for those that truly need and want a hand up, but there must also be accountability for those that just want to hang out and get high or drunk. I do not want to give those people a single nickel of my tax dollars.
Steve Ozark:
I understand your feeling there, and there are a whole lot of people that agree with you. The people I meet on the street are not having a party. No one I meet is having fun. They have an addiction, maybe more than one, many with mental illness, probably coming from living a life of crisis. Waiting in lines to be told there's no room, or to go to another line, or to come back later - that is a daily experience for people on the streets. Everyone I meet in the service providers out there tries to get people sober and straight, and most of the programs and benefits given in Lawrence require this or working towards this. I think that funding should be done something like 50% towards prevention, 25% towards case managers (who are out on the streets and at people's homes and very little time in the office), and 25% to shelter care. That shelter care number should decrease if we are successful in housing and rehabilitation. The food kitchens and pantries that are in Lawrence are all completely privately funded, most by churches, who, as I believe too, we want to help people who can't, even those who won't help themselves. But the priority needs to be hands up. The shelter we have allows people who have been drinking or using to come in. We're definitely better off as a community to have those folks at a shelter than wandering the streets. They work with rules and enforcement the best they can. But it's difficult work. I understand that kicking alcohol addiction takes 12 tries for the average person - meaning someone who has a home to go to. So it's got to be herculean to kick an addiction living on the street.
Hi Steve:
What kind of programs are available at the Open Shelter during the day? It seems as though there needs to be something for these folks to do, during the day. What ways can other agencies collaborate to provide services? I guess my question is, what kinds of services are needed?
Steve Ozark:
I agree, and people have been volunteering at the shelter to do health classes, massage, educational classes but it's never enough. They've started a jobs program making dog biscuits and paining addresses on rocks, but I heard that's maxxed out, so more jobs ideas are desparately needed. The shelter is simply too small to do what is needed in a shelter. Hopefully the city will help change that.
In our community, there seems to be very little empathy or compassion for the plight of the homeless. The negativity & insensitivity targeted towards them on local blogs is shocking. Is this attitude towards the homeless unique to Lawrence, or is this the prevailing attitude in every community across our country? I find the comments disheartening and feel most people have no clue how the majority of homeless people ended up where they are today. Thoughts?
Steve Ozark:
I only read one blog once - about KU basketball, so reading the comments on the referendum article was a shock. I never knew I was homeless, drive a beamer, am a trust fund kid, am a yuppie and a hippy... you get the idea. What I learned from the blog was that what a lot of people were saying quite rudely is what a lot of people say to me quite nicely, so there's something there. We have an image that homelessness is the guy downtown who's drunk asking for money and being anywhere in our sight. The fact is that of the 750,000 people experiencing homelessness, 40% are families with children. Here in Lawrence, 12 of the 15 schools have children attending who are known to be homeless, and everyone suspects there are many more. Generational and situational poverty are not easily understood through our middle class values and upbringing. We need to realize that we have poverty in Lawrence and that it affects thousands of people at one time or another. The best fix is to nip it in the bud before it becomes a way of life. All we tend to see are those who have homelessness as a way of life. Permanent, supportive housing can change that. We can get people off the streets and into their own place, we'll not only do the humane thing, we'll do what is cost effective as well. There are many people who cannot qualify for the Douglas County Housing Authority assistance in housing. They do an outstanding job of getting people who do qualify into homes, but more than half fail in the first year, as the support component is simply not there. We can close the gaps we have in Lawrence. We have the models and have seen effective programs that will address our gaps. We merely need the will power to do so. I for one think that addressing poverty in Lawrence would be the greatest thing that we could do. I hope that the City and County leadership will look carefully at all the prorities out there and see that an investment in the people of Lawrence will pay off for generations to come. I hope that you will too.
Moderator:
Steve, is there anything else about the proposed referendum or homeless issues in general we haven't asked you? Thanks for sharing some final thoughts with us.
Steve Ozark:
Thank you for having me. Discussion and understanding of poverty in Lawrence is very important. We have an amazing community compared to most anywhere else I've traveled in the world (I book bands for a living, so I've traveled extensively). I'm proud to tell people I'm from Lawrence. We simply need to be honest with ourselves as to what we are willing to do to help people in need. Some people write checks, some people go out for an activity, some people change someone's life, some people turn their backs. It's an individual decision and I hope more people feel the urge to take their time and talents and share them wherever they can.
As far as a referendum, I would guess we would lose that vote at this time, as was brought up in this discussion - a perception that many people have that people choose to be homeless, and why should I work hard so someone else doesn't have to. I believe we'd only lose a referendum because people don't understand what we're asking for, or that it can be fixed, or that we have the money and talent to do so. I'm certain we do.
I'd invite you to visit the shelters,get on my email list, go to one of the many informative meetings to broaden your perspective and see where you fit in. My email is oztalent@aol.com if you have further comments, want to receive emails, or want to get involved.
Moderator:
Readers interested in learning more about Housing First, the program Steve mentioned earlier, can check out the national Web site, www.housingfirst.net.
Steve, thanks for joining us today.
Steve Ozark:
Thank you for tuning in on this discussion. If we haven't met, I hope to see you out there making a difference.