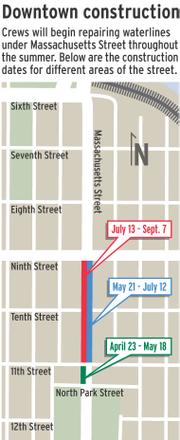 A downtown waterline replacement project will enter its third - but not necessarily final - act this summer, downtown merchants were told Thursday.
Downtown business owners were briefed on plans the city has this summer to begin the third consecutive year of a waterline replacement project that will limit traffic to one way on parts of Massachusetts Street and temporarily remove significant amounts of parking. This year's work will affect the 900, 1000 and 1100 blocks of Massachusetts Street.
Merchants at the City Hall meeting said they just wanted the city to do whatever it could to get the project done as quickly as possible.
"Would it be out of the question to get it started next week and get it over with?" asked Tom Wilkerson, an owner of Jayhawk Spirit, 935 Mass. "I would rather have it fully open for football season than to have it open this spring."
Next week would be a little quick for the city to get started, but staff members said they got the message that sooner is better than later. City Manager David Corliss and his staff will present a recommendation on Tuesday to city commissioners that the waterline project begin April 23 and run through Sept. 7.
Unlike last year, work would begin before Kansas University's commencement ceremonies, which are scheduled for May 20. But work before commencement would be limited to the 1100 block of Massachusetts Street.
Construction crews would not be allowed to begin work in the 900 and 1000 blocks until May 21. Here's a look at the schedule city commissioners will consider:
¢ April 23 to May 18: Workers will replace a waterline along the west side of Massachusetts between 11th Street and North Park Street. Parking along the west side of that portion of Massachusetts Street will be limited, but traffic will be allowed to travel in both directions through the block.
¢ May 21 to July 12: Workers will replace a waterline along the east side of Massachusetts between Ninth and 11th streets. Parking will be eliminated on the east side of the street during construction. Traffic also will be limited to one way.
¢ July 13 to Sept. 7: Workers will replace a waterline along the west side of Massachusetts Street between Ninth and 11th streets. Parking will be eliminated on the west side of the street during construction. Traffic also will be limited to one way.
Corliss said construction crews will stop work for one day to accommodate the annual Downtown Lawrence sidewalk sale in July.
This year's work won't completely wrap up the project, though. After talking with downtown merchants, Corliss said he'll recommend to commissioners that the repaving of Massachusetts Street - which was scheduled to happen after the last piece of waterline was replaced - be delayed until summer 2008. The repaving will take about two weeks. That means downtown would be under construction until late September if the repaving were done this year.
"I'm concerned about construction fatigue for downtown and the community if we stretch this deep into September," Corliss said.
Several merchants at Thursday's meeting urged the city to do the work during June or July 2008. There also was discussion about whether the repaving work should be done at night. Public Works Director Chuck Soules said that would be less disruptive from a parking standpoint, but said it may cause noise problems for people who live downtown.
"This is big equipment, and it will be really loud," Soules said.
One other change that Corliss is recommending to this year's project is that the fourth floor of the city-owned parking garage near Ninth and New Hampshire streets be converted to a free, all-day parking lot during the construction period.
The city will be taking bids on the estimated $2 million project in late March. The waterlines are being replaced because they are about 120 years old.
Deadline today for sprinkler fund applications
Downtown property owners have until 5 p.m. today to apply for a program to receive city funding to help cover the cost of installing fire sprinklers in their buildings.
The city has $250,000 in its 2007 budget to reimburse downtown building owners for up to 75 percent of the costs of installing a fire sprinkler system.Kevin Doyle, infrastructure and development coordinator for the city, said the city had received about 20 applications. He said it is likely that the city will not be able to fund all 20 requests, but the city has developed a system to score each application based on safety factors and the historical significance of the building.
The one-page application can be found on the city's Web site, www.lawrenceks.org, under the current topics section. Applications also are available at the city manager's office, which is on the fourth floor of City Hall, Sixth and Massachusetts streets.Property owners selected for the program must agree to install a sprinkler system in their building within five years.
Copyright 2018 The Lawrence Journal-World. All rights reserved. This material may not be published, broadcast, rewritten or redistributed. We strive to uphold our values for every story published.