Two years after selling away his or anyone else's ability to redevelop his Lawrence golf course, Ed White is looking to sell the place.
White, owner of Orchards Golf Course, has listed the nine-hole executive course at 3000 Bob Billings Parkway for $799,900. Since putting his 30-plus acres on the market in April, he said, a few people have inquired about making a purchase.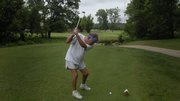 He's still waiting for the right person to make a bid.
"Everything's for sale," White said this week. "I put a price on it."
Just two years ago, White put a price on something else at the course - its future development rights - and managed to close a sale.
Dozens of nearby property owners agreed to share in the $280,000 cost of placing a conservation easement on the property. In exchange for the money, White agreed to place a restriction on the deed - one set to pass from property owner to property owner, in perpetuity - that mandates that the property either remain as a golf course or be maintained as open space.
Neighbors convinced the city of Lawrence to cover the bill, in the form of a low-interest loan that the affected property owners could pay back over the course of 10 years.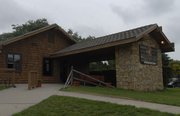 The justification: Neighbors didn't want to see White sell the course for development of apartments or another project that could eliminate a recreation option in town, cut into their backyard views or otherwise disturb the relative serenity that a golf course offers.
"We were all really pleased with the result," said Jean Milstead, a leader of the easement effort who spent her Tuesday afternoon awaiting a glass installer to replace a window broken by a wayward golf shot over the weekend. "The city won, the neighbors won and he won."
White maintains that his course is "having a good year," other than when it rains. He has been making a go of it since buying the Orchards Golf Course for $750,000 in February 1992.
"That was before Eagle Bend," said White, a frequent critic of the competing municipal course that opened a few years later near Clinton Lake. "Everything was great then. It's just very good now."
White insists that he doesn't need to sell the course, and certainly has no intention of closing it. He's reseeded and resodded areas of the course that needed attention, and neighbors see plenty of players making their rounds.
"It's going to stay a golf course," White said. "It's just one of those things. Everything's going good, I'm happy and, if somebody wants to buy it, so much the better."
Copyright 2018 The Lawrence Journal-World. All rights reserved. This material may not be published, broadcast, rewritten or redistributed. We strive to uphold our values for every story published.