Surrounded by files, law manuals and boxes, Douglas County District Attorney office employees are making the best of a cramped situation.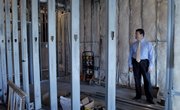 The office, on the first floor of the Douglas County Judicial and Law Enforcement Center, is two months into an expansion that will eventually relocate half of the 26-person office to the second floor of the building and add more space to Judge Pro Tem Peggy Kittel's office and courtroom.
"We're still not really in phase one," District Attorney Charles Branson said during a tour of the office Wednesday. "They're giving us more room, but the big thing is that we'll end up dividing the office."
Two trial assistants and two assistant district attorneys are currently sharing offices. And Brenda Clary, another assistant district attorney, is working at home in the midst of the upheaval.
"We've been through this before," joked Phyllis Payne, an investigator who has worked in the office for 25 years and experienced about four expansion projects. "It's getting kind of old."
Branson expects that the earliest the roughly $550,000 project will be completed is January.
When the move is made, the office will have more rooms for staff to meet with victims and their families, a larger conference room, more storage and ample office space.
An assistant district attorney position is open, which Branson hopes to fill once the project is complete.
"I haven't filled that position," Branson said, "because we just haven't got space for them."
Copyright 2018 The Lawrence Journal-World. All rights reserved. This material may not be published, broadcast, rewritten or redistributed. We strive to uphold our values for every story published.