Fayetteville, Ga. — Pro wrestler Chris Benoit strangled his wife, suffocated his 7-year-old son and placed a Bible next to their bodies before hanging himself with a weight-machine pulley, authorities said Tuesday.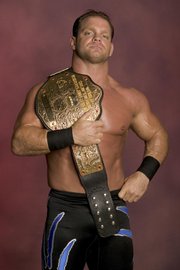 Investigators found anabolic steroids in the house and want to know whether the muscle man nicknamed "The Canadian Crippler" was unhinged by the bodybuilding drugs, which can cause paranoia, depression and explosive outbursts known as "roid rage."
Authorities offered no motive for the killings, which were spread out over a weekend, and would not discuss Benoit's state of mind. No suicide note was found.
"In a community like this it's bizarre to have a murder-suicide, especially involving the death of a 7-year-old," District Attorney Scott Ballard said. "I don't think we'll ever be able to wrap our minds around this."
The Montreal-born Benoit was one of the stars of the WWE wrestling circuit and was known for his wholesome family-man image.
The bodies were found Monday in the house in this suburb about 20 miles south of Atlanta.
Copyright 2018 The Associated Press. All rights reserved. This material may not be published, broadcast, rewritten or redistributed. We strive to uphold our values for every story published.