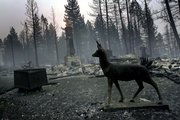 Meyers, Calif. — A raging wildfire near Lake Tahoe on Monday forced hundreds of residents to flee towering flames that destroyed more than 200 buildings, turned the sky orange and fouled the lake's famously clear waters with falling ash.
Many hotels offered free rooms as families clung to one bit of good news: Despite the destruction, there were no reports of injuries.
The blaze had scorched almost 2,500 acres - nearly 4 square miles - but by early Monday evening fire officials said the blaze was about 40 percent contained. Full containment was expected by Sunday, the U.S. Forest Service said.
About 1,000 people had evacuated from the path of the flames, and authorities feared up to 500 other houses could be threatened in this resort area along the California-Nevada state line.
More than 700 firefighters were on hand, but plans to send up airborne tankers and helicopters to drop water and retardant over the heavily wooded, parched terrain were scrapped because of low visibility from the thick smoke.
Firefighters hoped to bring the blaze under control ahead of high winds and low humidity forecast for the middle of the week.
"We have a window right now where we're really trying to aggressively attack this fire," said Daniel Berlant, a spokesman for the California Department of Forestry and Fire Protection in Sacramento.
Along the lake's southern shore, a layer of black, mushy ash lapped along boat docks, raising fears the fire also could have disastrous long-term economic consequences for a community heavily dependent on the lake's recreational tourism.
The fire began Sunday afternoon on a ridge separating the resort community of South Lake Tahoe from Fallen Leaf Lake, a recreation area where a U.S. Forest Service campground was evacuated.
By early afternoon Monday, 173 homes had been lost to flames and many others were damaged, along with dozens of outbuildings, authorities said. All that remained of entire neighborhoods in Meyers were the smoldering silhouettes of stone and concrete chimneys.
The burned neighborhoods were a hodgepodge of million-dollar vacation homes, cabins and modest houses strung along the east side of the ridge. At least three members of the local fire department were believed to have lost their homes.
The first reports Sunday night said that 250 homes had been destroyed, but that number was later revised.
Copyright 2018 The Associated Press. All rights reserved. This material may not be published, broadcast, rewritten or redistributed. We strive to uphold our values for every story published.