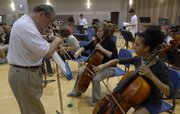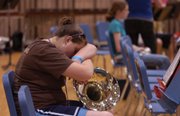 Nick Chance says he can easily rattle off the names of 10 classmates who are both amazing musicians and "ridiculously smart."
"One of the things that connects with really good test scores is that a lot of the music students have a lot of practice put into their music," says Chance, a vocalist and May graduate of Lawrence High School. "They work hard; they focus. Those are qualities that are carried into the classroom in any form of environment."
Perhaps, but it turns out that the music environment at a school might actually determine how much carryover there is in other subjects.
A new study, published this month by Kansas University music professor Christopher Johnson, shows that elementary and middle schools with high-quality music programs have higher standardized test scores than schools with music programs deemed "deficient."
Music education has long been linked with intelligence. But this may be the first study to show it's more than simply being involved in music that matters - the quality of education matters, too.
The study will be good news to arts advocates who are lobbying against program cuts at a time when schools are focusing on math and English because of the No Child Left Behind act. Johnson says empirical data helps when it comes to budget processes.
"The way things ought to be doesn't always sway people with purse strings," he says.
'Shocked' at results
The study was conducted for the National Association of Music Merchants.
The study examined test scores of 4,739 students in third, fourth, eighth and ninth grades in schools representing the East Coast, Midwest, West Coast and South.
The schools were selected by talking with music educators in the region. A sampling of both "top-quality" music programs and "deficient" programs were included.
"It was a very large project," Johnson says. "There were a ton of schools."
Johnson says he was surprised by the results.
"I was rather shocked," he says. "Not only were there differences, but the differences were rather dramatic. Musicians around the world are actually pretty excited about this."
Specifically, the study found:
¢ Students in the better music programs at elementary schools scored 22 percent better in English and 20 percent better in math than students in the deficient programs.
¢ At the middle school level, students in top instrumental programs scored 19 percent higher in English than students in schools without a music program.
¢ Middle-school students in top instrumental programs scored 32 percent higher in English than students in deficient choral programs. Johnson says that's probably the result of some choir programs being "administrative dumping grounds" for students who don't want to or can't take other classes.
Two U.S. senators, Chris Dodd of Connecticut and Lamar Alexander of Tennessee, have requested the Government Accounting Office to conduct a study on access to music and arts education in American public schools since the passage of No Child Left Behind.
Johnson says that study likely will build on some of the findings in his project.
Not just 'artsy thing'
Johnson thinks while some people realize the importance of music education, it will help to have more specific numbers on the ripple effect of music.
"Do I think the tide is turning? Not right now," he says. "A lot of money that's usually available to the arts is not available right now. It's going to other things. I'm not trying to make a statement about the war, but it's expensive. What's the first thing to go in a war? The arts."
Ann Bruemmer agrees that the more studies linking music to intelligence and grades, the better. Bruemmer is director of arts and humanities for Lawrence Public Schools.
"I think nationwide we're all very aware of the need for a broad variety of things in the curriculum, whether it's arts or physical education," Bruemmer says. "No Child Left Behind tests for reading and math, and everything else has seemed to fall off. But we know all of these things make for a well-rounded curriculum."
Ben Markley, a ninth-grader at West Junior High who plays French horn, says he's not surprised at all at the connection between music education and overall intelligence. He likens time spent practicing his instrument to studying in the classroom, and performances as being like the tests he takes in other subjects.
"With music, people tend to just think it's a real artsy thing," he says. "But it has a lot to do with actual intelligence, like counting and getting everything done. We have to keep this stuff around because obviously it's benefiting us in some way."
Copyright 2017 The Lawrence Journal-World. All rights reserved. This material may not be published, broadcast, rewritten or redistributed. We strive to uphold our values for every story published.