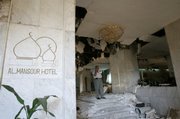 U.S. Deaths
As of Monday, at least 3,562 members of the U.S. military have died since the beginning of the Iraq war in March 2003, according to an Associated Press count.
Baghdad — A stealthy suicide bomber slipped into a busy Baghdad hotel Monday and blew himself up in the midst of a gathering of U.S.-allied tribal sheiks, undermining efforts to forge a front against the extremists of al-Qaida in Iraq. Four of the tribal chiefs were among the 13 victims, police said.
Iraq's prime minister quickly vowed renewed support for Anbar province's tribal leaders after the noontime explosion, which also wounded 27 people and devastated the ground-floor lobby of the high-rise Mansour Hotel.
"We are sure that this crime will not weaken the will of Anbar sheiks," Nouri al-Maliki said in a statement.
The stunning terror strike in the heart of Baghdad, by a killer penetrating layers of security, was one of a wave of suicide and other bombings that killed at least 46 people across Iraq on Monday - another day of unrelenting violence raising questions about the ability of the reinforced U.S. military to stem the bloodshed here.
In northern Iraq, 13 Iraqi policemen died in what the U.S. military described as a furious bomb and small-arms attack by insurgents on a security post shared by police and U.S. paratroopers.
In Baqouba, north of Baghdad, meanwhile, a week-old U.S.-Iraqi offensive pressed on, street by street, to drive al-Qaida-linked insurgents from the city's western side. Beginning late Sunday, U.S.-Iraqi forces clashed with insurgents in the central market area, an Iraqi army officer reported.
"It's going to get harder before it gets easier during the search," Brig. Gen. Mick Bednarek, U.S. commander of the operation, told reporters. "We are going into areas we didn't have the troops to go in before."
Anbar alliance
The bomber at the Mansour Hotel, on the west bank of the Tigris River, struck as the lobby bustled with members of news media organizations headquartered at the hotel and other guests, witnesses said.
Among them were a group of sheiks associated with the Anbar Salvation Council, an alliance of Sunni Muslim tribes that have turned against the al-Qaida in Iraq extremists in a bid to drive them from the western province of Anbar.
Police and security officials said a man wearing traditional Arab garb like the sheiks', complete with headdress, entered the lobby. He also was wearing a belt of explosives, packed with nails and metal pellets, said these officials, speaking on condition of anonymity. He approached the sheiks and detonated the bomb.
A police officer based at the hotel identified four tribal leaders killed as former Anbar governor Fassal al-Guood, sheik of the Albu Nimr tribe and a Mansour Hotel resident; Sheik Abdul-Azizi al-Fahdawi of the Fahad tribe; and Sheik Tariq Saleh al-Assafi and Col. Fadil al-Nimrawi, both of the Albu Nimr tribe. Three of al-Guood's guards also were killed, the police officer said.
Meeting's mission unclear
The purpose of Monday's fatal gathering of tribal chiefs remained unclear.
The U.S. command here has pointed repeatedly to the Anbar group and its opposition to al-Qaida as an example for other tribes to follow elsewhere in Iraq. But the Salvation Council reportedly has been riven by disagreements - over how closely to work with the U.S. occupation force, for example.
In a statement denouncing the bombing, the U.N. representative here, Ashraf Qazi, referred to it as a meeting "seeking to resolve differences."
But one government official, speaking on condition of anonymity, said the meeting also involved sheiks from outside Anbar, suggesting an effort to broaden the tribal anti-al-Qaida front.
Those killed also included a noted Iraqi poet, Rahim al-Maliki, who was interviewing the Anbar sheiks for a documentary film.
Copyright 2018 The Associated Press. All rights reserved. This material may not be published, broadcast, rewritten or redistributed. We strive to uphold our values for every story published.