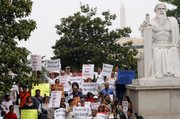 Washington — The woman who led the top U.S. environmental agency during the Sept. 11, 2001, attacks confronted critics in Congress on Monday about her assurances that the air around the destroyed World Trade Center was safe to breathe.
Christie Whitman, former head of the Environmental Protection Agency, denounced what she called "misinformation, innuendo, and outright falsehoods" leveled against her and the agency.
"There are people to blame. They are the terrorists that attacked the United States, not the men and women of all levels of government," Whitman said.
Whitman has insisted her public assurances about safe air were aimed at those living and working near ground zero, not those actually working on the toxic pile of debris. She claims her agency repeatedly warned those workers and top city officials that rescue and recovery workers needed to wear protective gear.
Since the attacks, independent government reviews have faulted the EPA's handling of the immediate aftermath and the agency's long-term cleanup program for nearby buildings. The 9/11 commission found no evidence that the EPA was pressured to say the air was safe to permit the city's financial markets to reopen.
U.S. Representative Jerrold Nadler, whose district includes the trade center site, called the hearing after years of criticizing federal officials over the cleanup effort.
"The administration has continued to make false, misleading and inaccurate statements, and refused to take remedial actions, even in the face of overwhelming evidence," Nadler said.
More than five years after the attacks, researchers are developing evidence of the long-term health effects.
A study of more than 20,000 people by Mount Sinai Medical Center in New York concluded that since the attacks, 70 percent of ground zero workers suffered some sort of respiratory illness.
A separate medical study released last month found that rescue workers and firefighters contracted sarcoidosis, a serious lung-scarring disease, at a rate more than five times higher than in the years before the attacks.
A delegation of activists and Sept. 11 rescue workers boarded a bus in Manhattan early Monday to be present for the hearing.
"People are outraged that they are continuing to stick to their story and continuing to lie," activist Kimberly Flynn said. "These lies have hurt our lives and the lives of our families."
Copyright 2018 The Associated Press. All rights reserved. This material may not be published, broadcast, rewritten or redistributed. We strive to uphold our values for every story published.