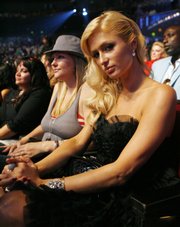 New York — Caught in the whirlwind of bad publicity that often surrounds Paris Hilton, NBC and ABC sought to distance themselves Friday from reports that they were opening their wallets in pursuit of an exclusive interview with the heiress after her release from jail.
ABC News said the Hilton family offered the interview to Barbara Walters, but that Walters and ABC News executive David Sloan turned it down Friday, said an ABC News executive who said he would discuss the talks only on condition of anonymity.
NBC News, which has said it was interested in speaking to Hilton only if no money were involved, said no interview had been arranged. But the network did not immediately address contradictory media reports about whether it was still pursuing the interview.
The networks and Hilton family appeared anxious to avoid a public backlash over the idea that the wealthy hotel heiress, slated to be released early next week, would profit from her time in jail.
ABC backed off "because the process left us pretty cold," the executive said.
Earlier in the week, ABC News said it believed it had secured the Hilton interview with Walters. The network had agreed to pay the Hilton family up to $100,000 for the use of exclusive video and other material to go with the story. But ABC learned from the Hiltons that it had lost out to an "astronomical" offer from NBC, the executive said.
NBC News denied having an interview lined up with Hilton. "We don't pay for interviews and we'll never pay for interviews," said spokeswoman Allison Gollust.
Although it's considered a journalistic sin to pay for interviews, the ban can be sidestepped in many ways for hotly contested ones. One is agreeing to pay for videos and other materials, and another is shifting negotiations to a network's entertainment division, which observes no such prohibitions.
A spokesman for the Hiltons issued a statement Thursday saying they had not requested any payment for an interview or related material. He did not immediately return a call for comment Friday.
The New York Post, which had first reported ongoing talks over a post-jail interview, headlined a story Friday: "So crime DOES pay, Paris."
Recently, NBC landed an exclusive interview with Britain's Princes William and Harry, which, conducted by Matt Lauer, aired Monday as an edition of "Dateline NBC." NBC also reportedly paid a fee in the low seven figures for American rights to air a concert next month in honor of their late mother, Diana, to mark the 10th anniversary of her death.
Copyright 2018 The Associated Press. All rights reserved. This material may not be published, broadcast, rewritten or redistributed. We strive to uphold our values for every story published.