Photo Gallery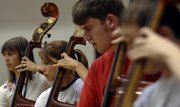 KU Music Camp
About 150 high school students have been rehearsing their instruments and voices this week for the Kansas University Midwestern Music Camp.
The students have been forming ensembles and large groups for a variety of concerts that will take place this weekend.
At 7 p.m. today, woodwind, percussion and jazz ensembles will perform at the Lied Center. On Saturday, two choirs, a string and full orchestra and full band will perform at 11:30 a.m., also in the Lied Center.
David Clemmer, assistant band director at KU, said the students come to learn a variety of musical forms, including orchestral, choral and band. Several KU music professors and other volunteers, including a former Air Force orchestra, band and choir commander/conductor, are assisting the young musicians.
"The students are here receiving great instruction from some of the best teachers in the country," Clemmer said.
Most students are from Kansas, but others come from neighboring states as well as California and Virginia.
The camp this week is one of four camps offered as part of the KU Midwestern Music Camp, Clemmer said. Last week, junior high students participated in a similar camp, and July 8-13 a marching leadership camp and jazz musicians camp will take place.
Copyright 2018 The Lawrence Journal-World. All rights reserved. This material may not be published, broadcast, rewritten or redistributed. We strive to uphold our values for every story published.