Dylan Foster is singing in the choir at music camp and loving it - except for one thing.
"There's so many people in the choir, nobody can hear me sing," the 11-year-old from Overland Park said. "I want people to hear me."
Foster is among the dozens of youngsters at Kansas University this week for the first session of Midwestern Music Camps.
More than 500 campers will participate in several different programs lined up through July 14.
Started in 1935 by former KU band director Russell Wiley, the camp is billed as among the oldest in the nation.
"It's a really rich tradition," said James Hudson, director of KU's Marching Jayhawks and Athletic Bands and the camp's director.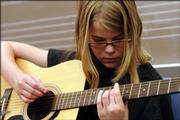 Junior high students this week will file into rooms in KU's Murphy Hall, where they practice music, and take such classes as music appreciation and music theory.
Classes run from 8 a.m. to 4:30 p.m.
"It's like school, only in the summer," said Cali Brasseur, 13, of Lawrence.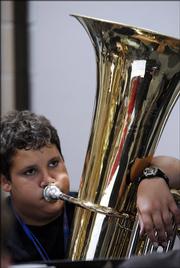 But for many, the camp is also an opportunity to stay in KU dorms, navigate the big campus and make friends.
"It's just a really good experience," said Leslie Butsch, 14, of Olathe.
The camp swelled to more than 2,100 campers at its peak in the late 1960s, when campers participated in music, ballet, journalism and astronomy classes.
The camp remains strong, Hudson said, but there are numerous camps and programs that compete for kids' time these days.
The camp draws budding musicians like Morgan Hines, 13, of Topeka. Hines wants to improve her skills with the violin so she can advance in her school's orchestra.
The camp gives her that extra practice.
"We play harder songs," she said. "You have to concentrate on what you're doing."
This week's session will culminate in performances from 11 a.m. to 3 p.m. Saturday at the Lied Center. The performances are free and open to the public.
Copyright 2018 The Lawrence Journal-World. All rights reserved. This material may not be published, broadcast, rewritten or redistributed. We strive to uphold our values for every story published.