Washington — Vetoing a stem cell bill for the second time, President Bush on Wednesday sought to placate those who disagree with him by signing an executive order urging scientists toward what he termed "ethically responsible" research in the field.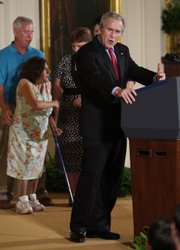 Bush announced no new federal dollars for stem cell research, which supporters say holds the promise of disease cures, and his order would not allow researchers to do anything they couldn't do under existing restrictions.
Announcing his veto to a roomful of supporters, Bush said, "If this legislation became law, it would compel American taxpayers for the first time in our history to support the deliberate destruction of human embryos. I made it clear to Congress and to the American people that I will not allow our nation to cross this moral line."
He vetoed similar embryonic stem cell legislation last July.
His executive order encourages scientists to work with the government to add other kinds of stem cell research to the list of projects eligible for federal funding - so long as it does not create, harm or destroy human embryos.
Democrats dismissed Bush's veto as a moral affront, and his executive order as a meaningless gesture meant to trick people into thinking he had advanced stem cell research. They said they would conduct votes to try to override the veto - or at least give the issue more air time.
"We also intend to continue bringing this up until we have a pro-stem cell president and a pro-stem cell Congress," said one of the House's chief sponsors, Rep. Diana DeGette, D-Colo.
Senate Democrats were expected to begin the process by trying to add embryonic stem cell legislation this week to a must-pass appropriations bill for the Labor and Health and Human Services departments.
The provision, proposed by Sen. Tom Harkin, D-Iowa, would allow taxpayer dollars to be spent on research on human embryonic stem cell lines derived before June 15, 2007 - moving the date of Bush's ban on public funding for such research up by nearly six years. Research on stem cell lines derived in the interim would be eligible for federal funding. The new provision also would add ethical standards to be used for selecting embryos to be studied, according to a draft of the provision.
By the 2008 elections, Democrats predicted, Bush's veto of new public funding for embryonic stem cell research would be a top priority of voters in the congressional and presidential elections.
Public opinion polls show strong support for the research.
Scientists were first able to conduct research with embryonic stem cells in 1998, according to the National Institutes of Health. There were no federal funds available for the work until Bush announced on Aug. 9, 2001, that his administration would spend tax money for research on lines of cells that already were in existence. Some scientists have argued that the those stem cell lines were contaminated and unstable.
The latest bill would have permited funding for research on embryos only if they were donated from in-vitro fertilization clinics, if they would "otherwise be discarded" and if donors gave their approval.
"No stem cell would ever be taken from an embryo that was not destined to be destroyed in any event," Rep. Mike Castle, a Delaware Republican who has long bucked his party leaders on the issue, said when the bill was passed earlier this month.
Copyright 2018 The Lawrence Journal-World. All rights reserved. This material may not be published, broadcast, rewritten or redistributed. We strive to uphold our values for every story published.