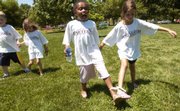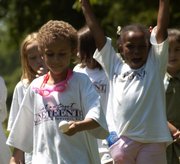 Smiles and laughter from children ages 4 to teenagers filled South Park on Tuesday morning.
More than 600 students from the Lawrence Boys and Girls Club celebrated Juneteenth at the park. The youngsters filled the day with outdoor activities such as an egg toss, sack races and crafts that focused on the day's celebration, which marks the anniversary of the announcement of the abolition of slavery in Texas more than two and a half years after the Emancipation Proclamation.
Donna Bell, a co-chairwoman for the event, said the children spent nearly two weeks learning about Juneteenth and its significance.
"This whole idea of treating everyone fairly and equitably is a lesson that we all sort of need to relearn, and Juneteenth gives us that opportunity every year to touch our kids with some key messages like that," Bell said.
Second-grader Daja Coker said she understands the significance of Juneteenth.
"It's important because the slaves are free and that's why we are all here right now," Daja said.
Mercades Beckum, a recent graduate of Lawrence High School and a supervisor for the children, said she didn't even know about Juneteenth until some younger children mentioned it to her.
She said it was important for children to learn about the historic event.
"It reminds them of their history," she said, "and that's something they won't forget."
Bell said the Boys and Girls Club wanted to inform the children about Juneteenth but also keep them entertained. That's why the club held a re-enactment of the event and set up several crafts tents that allowed children to design meaningful items, including quilt squares.
Squares from nearly every child will be linked and placed in the club's main building. The squares ranged from detailed drawings to simple, meaningful marks that signified their thoughts on the celebration.
"We make it entertaining as well as educational," Bell said. "We don't just sort of sit in front of them and talk. We portray what was it like to be a slave, so we had our educators there as slaves, and talking to them in that voice.
"We've really tried to paint a picture for them, and that gets them excited."
Copyright 2018 The Lawrence Journal-World. All rights reserved. This material may not be published, broadcast, rewritten or redistributed. We strive to uphold our values for every story published.