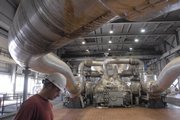 The amount of carbon dioxide that is emitted into the atmosphere by the Lawrence Energy Center has raised environmental concerns.
Among those worried are Lawrence residents Ray Dean and his wife, Sarah, who filed a lawsuit last week against the Kansas Department of Health and Environment, which monitors air quality. The lawsuit, filed in Shawnee County District Court, contends KDHE is legally required to regulate and limit CO2 emissions.
"The country is beginning to realize that carbon dioxide has an effect on people's health and welfare," Ray Dean said.
While the KDHE has said it will try to get the lawsuit dismissed, Ray Dean hopes that a victory in court will mean carbon dioxide limits at power plants, as well as limits on how many more CO2-emitting plants can be built.
The KDHE is considering a proposal from the Sunflower Electric Corp. to build as many as three coal-fired plants in Finney County in western Kansas.
That, Ray Dean said, will add millions more tons of what he calls "carbon dioxide pollution" into the air.
Amount of emissions
In 2005, the most recent year on record, the Lawrence plant released 4.6 million tons of carbon dioxide into the atmosphere, according to the Environmental Protection Agency.
That's up nearly 75 percent from the amount it released 10 years earlier, in 1995.
It makes the Lawrence Energy Center the third-highest emitter of carbon dioxide among the 24 power plants in Kansas. The highest two are the Jeffrey Energy Center near St. Marys with 18.1 million tons, followed by a plant in La Cygne that emits 10.2 million tons. The lowest in Kansas is a plant in McPherson that emits 843 tons.
Officials with Westar, which owns the Lawrence Energy Center, say that CO2 is an inevitable consequence of burning fossil fuels to produce energy.
"Carbon dioxide is obviously a natural combustion product," said Bill Eastman, director of environmental services for Westar.
Meanwhile, environmental groups point to CO2 emissions as one of the greenhouse gases that many scientists think are a cause of potentially disastrous climate change.
"CO2 is a huge problem," said Ilan Levin, an attorney for the Environmental Integrity Project.
The EPA historically hasn't regulated carbon dioxide emissions from cars or power plants.
But power plant officials worry - and environmentalists celebrate - the possibility that could change after a U.S. Supreme Court ruling in April that said greenhouse gases are an air pollutant for the purposes of the Clean Air Act.
The ruling, observers say, could be the catalyst for CO2 regulations for automobiles and coal-fired power plants.
For power plants, the regulations would mean expensive and as-of-yet undeveloped technology to reduce CO2 emission in fossil fuel-burning utility plants.
"As long as you burn carbon-based fuel, you're going to emit carbon dioxide, so your only alternative is to capture it and sequester it someplace," Eastman said.
He added that such technology is not yet on the market.
"We're still not quite sure how to do that," Eastman said. "There's just no cost-effective technology."
The same Supreme Court ruling is what helped prod the Deans into filing their lawsuit.
Paying the price
Ray Dean acknowledges that placing further regulations on utilities would almost certainly mean higher rates.
But he said it's a price that he and others should be willing to pay.
"There's a lot of scientific evidence and economic evidence that it's going to cost a huge amount of money to continue doing what we're doing," he said. "It's not a question of, 'Oh, it's just going to cost a lot of money to these companies to clean up their plants.' It's going to cost our society if we don't."
But even environmental groups seem unsure of how to pay for the cost of regulating CO2 emissions.
"The expectation is we will have federal carbon legislation," said Levin, attorney for the Environmental Integrity Project.
And for the energy plants, it's not only a question of cost but also whether the technology is available.
"We feel that the regulations are way ahead of any promising technology that will work in our industry," Eastman said.
Making headway
While the Lawrence Energy Center emits CO2 at a higher rate than most fossil fuel-burning plants in Kansas, experts say it's not significantly higher than other plants.
"Most of these older fossil-fired coal plants emit at roughly the same CO2 emission rate," Levin said. "In other words, they're all equally inefficient."
The plant has reduced in the last 10 years its yearly output of sulfur dioxide and nitrous oxide - two regulated gases that cause smog and problems with the ozone layer.
If and when CO2 regulations are next up for power plants in the United States is anyone's guess.
If it's up to the Deans, their lawsuit would jump-start the process to limiting greenhouse gases.
"The Supreme Court thing gives us a lot more hope," he said, "that we're going to have a lot more legal standing in this position."
Copyright 2018 The Lawrence Journal-World. All rights reserved. This material may not be published, broadcast, rewritten or redistributed. We strive to uphold our values for every story published.