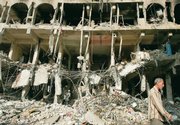 U.S. deaths
As of Friday, at least 3,646 members of the U.S. military have died since the beginning of the Iraq war in March 2003, according to an Associated Press count.
Baghdad — A fierce gunbattle broke out after a joint U.S.-Iraqi force arrested a rogue Shiite militia leader in Karbala on Friday, leading to an airstrike and the deaths of some 17 militants, the military said.
U.S. troops also captured four militants suspected of links to networks that smuggle weapons and fighters from Iran, which Washington accuses of fueling the violence in Iraq with its support of Shiite militias.
The U.S. military has promised to crack down on Shiite militias, which have been blamed for thousands of execution-style killings and roadside bombings, as well as on Sunni extremists usually blamed for suicide attacks and other bombings.
Militia violence declined after radical Shiite cleric Muqtada al-Sadr ordered his fighters to lay low when a U.S.-Iraqi security crackdown began in February. But such attacks have recently increased out of frustration over frequent raids against al-Sadr's supporters and the failure of security forces to stop bombings that target Shiites.
In the Shiite holy city of Karbala, 50 miles south of Baghdad, the joint force moved in before dawn to detain a man described as the commander of a breakaway group of al-Sadr's Mahdi Army militia, along with two other suspects.
The raid went smoothly, but the troops came under fire as they left with their prisoners, the military said. Attackers fired small arms, machine guns and rocket-propelled grenades from three locations and five militants were killed in the fighting that followed, the military said.
Militants fired on a helicopter assisting the operation, prompting U.S. special forces to call in attack aircraft, which launched a strike that killed about a dozen more militants, the U.S. military said.
The military said no civilians were in the area, but local Iraqi officials said nine people were killed, including four militiamen and five civilians, and 23 people were wounded.
A local policeman and a council member said a militia leader named Razzaq al-Ardhi had been detained along with his brother.
Copyright 2018 The Associated Press. All rights reserved. This material may not be published, broadcast, rewritten or redistributed. We strive to uphold our values for every story published.