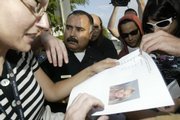 Los Angeles — Lindsay Lohan is the latest star to tumble from Hollywood's heights into the tumult of substance abuse, continuing a sad tradition of young celebrities who deal with mounting or fleeting fame by turning to drugs or alcohol.
The actress, 21, was arrested early Tuesday in Santa Monica and released on bail for investigation of misdemeanor driving under the influence and with a suspended license, and felony cocaine possession.
During a prebooking search, police found cocaine in one of Lohan's pants pockets, Sgt. Shane Talbot said.
Police received a 911 call from the mother of Lohan's former personal assistant, saying that Lohan was chasing her in an SUV, said Lt. Alex Padilla. The assistant had just quit hours before, he said. Authorities found Lohan and the woman in a "heated debate" in the parking lot of Santa Monica's Civic Auditorium about 1:30 a.m.
Lohan, who completed a more than six-week stint in rehab this month and previously had checked into a recovery clinic in January, still faces DUI allegations connected to a Memorial Day weekend hit-and-run crash in Beverly Hills.
Lohan proclaimed her innocence in an e-mail to "Access Hollywood" host Billy Bush, the show reported on its Web site Tuesday night. "I am innocent ... did not do drugs they're not mine. I was almost hit by my assistant Tarin's mom I appreciate everyone giving me my privacy," read a message the show said was from Lohan's e-mail account.
After Lohan's appearance Tuesday on "The Tonight Show" was canceled, comedian Rob Schneider took her place. Wearing women's clothes and a fake alcohol monitoring ankle bracelet, he pretended to be her in a mock interview with host Jay Leno.
With two trips to rehab behind her and a litany of legal problems in front of her, Lohan joins a long list of young talents who have faced high-profile battles with drugs: River Phoenix, Drew Barrymore, Corey Feldman, Anissa Jones, Danny Bonaduce, Macaulay Culkin. Some have gone on to enjoy healthy careers. Others died young.
The average age at which kids - famous or not - start using drugs has dropped every decade since the 1960s. Today's youngsters start experimenting with drugs about age 12, said Dr. David Deitch, an addiction specialist for more than 40 years and clinical director of Phoenix House, a national nonprofit provider of substance-abuse treatments.
"The earlier the age of onset of chronic drug-taking, the greater the prognosis is for long-term problems," he said.
Other young stars
Phoenix, who starred in "Stand By Me" as a teen, died in 1993 outside a Hollywood nightclub from a lethal combination of cocaine and heroin. He was 23. Feldman, his "Stand By Me" co-star, also battled addiction and was arrested for heroin possession when he was 19.
Jones, who played Buffy on TV's "Family Affair," was just 18 when she died of a drug overdose in 1976. Bonaduce found fame at 10 as a star of "The Partridge Family," only to struggle with addiction and homelessness as a teenager. Culkin, best known for his starring turn in the kid-friendly "Home Alone" films, was busted in his early 20s for possession of pot and Xanax.
Barrymore, 32, has fared best. After going to rehab for drugs and alcohol at 13, she is a sought-after actress and filmmaker with her own production company, Flower Films.
Career at stake
Lohan's latest legal troubles may cost her movie roles. She was set to start shooting "Poor Things," a comedy featuring Shirley MacLaine, when she entered rehab in May. At the time, producers said they were "trying to rearrange the shooting schedule" to accommodate Lohan. On Tuesday, producers said that their "sole focus is moving this film into production." They would not say whether Lohan would be part of the production.
A producer lambasted Lohan last summer for repeatedly arriving late to the set of "Georgia Rule," which came out in May.
"We are well aware that your ongoing all-night heavy partying is the real reason for your so-called 'exhaustion,"' producer James G. Robinson wrote in a letter to the actress.
Copyright 2018 The Associated Press. All rights reserved. This material may not be published, broadcast, rewritten or redistributed. We strive to uphold our values for every story published.