Photo Gallery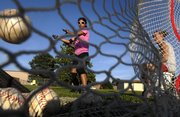 Fastpitch softball
Lawrence merchants will be looking forward to more than the crack of the bat when an estimated 4,000 softball players, family members and friends will be in town this week for the American Fastpitch Softball Association's National Championship Tournament.
They'll be listening for the ring of the cash registers, too.
"This is definitely the week out of the year that I would like to own an ice cream stand or a sandwich shop," said Michael Moore, general manager of the SpringHill Suites by Marriott.
Being in the hotel business isn't too bad either. Leaders with the Lawrence Convention and Visitors Bureau said that all 1,100 hotel rooms in the city are booked this week, which is a summer rarity.
In 2005, the last time the softball national championship was in Lawrence, Convention and Visitors Bureau leaders estimated it generated $1.7 million in direct spending on hotel rooms, food, gas and entertainment.
Several merchants this week said they didn't doubt the figures. The softball players are a good spending bunch, and noticeable, too, because they often come into restaurants and stores wearing their team T-shirts.
"I'd definitely like to see more events like that one," said Khara Loeppke, assistant manager at Maurice's, a downtown clothing store. "It helps our business out tremendously."
A vacation
Ed Kimminau, state director for the softball association, said Lawrence's shopping and entertainment options are part of the reason the tournament keeps coming back.
"A lot of the teams and families make a vacation out of this," Kimminau said. "They want to do more than softball."
Every team in the tournament is guaranteed at least five games during the week, which leaves a good part of each day for other pursuits, Kimminau said.
"There is shopping that goes on for sure," Kimminau said. "A lot of these teams come from small towns, and I mean smaller than Lawrence. The teams coming from Hugoton and places like that do come here to shop because they don't have near the shopping options that you do in Lawrence."
Last year the softball association held the national tournament in Blue Springs, Mo. The previous three years it had been in Lawrence.
Kimminau said it was more than just the shopping that brought the tournament back. He said the support provided by the Convention and Visitors Bureau and the Lawrence Parks and Recreation Department - crews routinely work all night to mow and prepare fields for the next day's play - was a major selling point.
"You guys really work well with us," Kimminau said. "You really seem to want us here."
Future events
There's a good reason for that, Convention and Visitors Bureau leaders said - Lawrence would like for youth sporting events to become a larger part of the city's tourism economy.
Lawrence tourism leaders said Lawrence has some attributes that could make it a player in the industry. The city is well-situated in the middle of the country and offers easy access for teams driving into a tournament. The city's downtown is a unique draw that gives people something to do while games aren't being played, and Kansas University offers several attractions.
Lawrence's biggest attraction, though, may be its size - not too small and not too big.
"When an event like this comes to a town our size, it is a big event," said Judy Billings, director of the Lawrence Convention and Visitors Bureau. "And everybody who plans an event like this wants to feel like it is something special to the community. We can make them feel special."
Facility concerns
That's in part because events like the softball tournament are special. An event that attract upward of 4,000 people to town for an entire week - especially during the summer with fewer students at KU - is the exception rather than the rule in Lawrence.
Bob Sanner, director of convention and sports marketing for the CVB, is working to change that. But at times, that is an uphill battle.
"It is not that we don't get strong interest from other events," Sanner said. "It is just that we're not able to accommodate a lot of them because of facility shortages."
Youth events for soccer, volleyball, basketball and, to a degree, baseball, are harder for Lawrence to attract, Sanner said.
That's been one of the selling points that supporters of PLAY - Partners for Lawrence Athletics and Youth - have been using to build support for the notion that the community needs a new sports complex.
"I think we're absolutely missing out on opportunities," said Bonnie Lowe, a PLAY committee founder. "If we had the sports facilities in town for baseball, soccer, basketball and volleyball, I don't think it would be uncommon for us to attract several events that bring as many people to town as this softball tournament does."
A taxing decision
But when talk turns to how to pay for new sporting facilities, the mood is anything but fun and games. That's because the talk usually ends up at new taxes.
Thus far, the city, county, school district and Chamber of Commerce all have been at the table to discuss the possibility of building new sports venues. None, however, has stepped forward to take the lead on paying for the project.
A phone survey conducted earlier this year found that 53 percent of respondents are open to the idea of a new sales tax to pay for additional sports facilities. The idea of a half-cent sales tax to pay for PLAY and other community needs has been proposed by Mayor Sue Hack. It hasn't yet won support from her fellow commissioners. It is competing against another half-percent sales tax proposal by Commissioner Mike Amyx that doesn't include funding for PLAY but does include some property tax relief. It also hasn't won support from fellow city commissioners. And no one knows whether either could garner enough votes in a citywide election to be enacted.
The survey, though, did find support for another option. About 62 percent of respondents said they were open to the idea of increasing the 5 percent tourism tax that the city adds to the price of hotel rooms.
A 1 percent increase in the tax would push the rate to 6 percent, which is the same rate that most of Lawrence's competitors - Topeka, Overland Park, Olathe, Wichita and Lenexa - charge. A 1 percent increase would generate about $150,000 per year, based on current city projections.
The $150,000 per year would be roughly enough to finance about $1.5 million in improvements over a 12-year period, city financial leaders estimated. That's far short of the estimated $18 million to $20 million the PLAY study determined would be needed to build either a new outdoor complex or indoor fieldhouse.
If the city were to use the entire guest tax revenues - projected to be about $820,000 in 2008 at its current rate - that would leave Billings' Convention and Visitors Bureau Department without a funding source. No one has proposed doing that, but Billings said she has heard rumblings about using a portion of the guest tax money to fund new recreational facilities. She's concerned about the idea.
"I'm very concerned about the future of the guest tax right now," Billings said.
Her department has a budget of about $800,000 that it spends to market the city to convention planners, tourists and sporting event promoters. Billings said new facilities would open up new possibilities for sporting events to come to town, but only if there's still money left in the budget for marketing.
"If we don't have the resources to market the community, we'll be out of sight and out of mind," Billings said.
Ideas of a guest tax increase drew a more mixed reaction in the hotel industry. Some hotel operators said they thought the Lawrence market could absorb an increase in the guest tax to 6 percent because that is the rate other communities charge. Others, though, said if Lawrence increased both the guest tax by 1 percent and increased the sales tax by a half percent, that could begin to price Lawrence hotel rooms out of the convention market. Hotel guests pay both the guest tax and the sales tax.
Copyright 2018 The Lawrence Journal-World. All rights reserved. This material may not be published, broadcast, rewritten or redistributed. We strive to uphold our values for every story published.