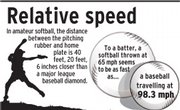 Photo Gallery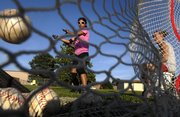 Fastpitch softball
Fastpitch softball is invading Lawrence this week.
The softball diamonds at Clinton Lake, Holcom Park and Youth Sports Inc. will be flooded with 105 10-, 14- and 18-and-under girls fastpitch softball teams beginning with Monday's opening ceremonies.
Although the American Fastpitch Association "B" - the lower of the association's two divisions - 2007 National Championship Tournament will feature local teams, six from Lawrence, one from Ottawa and another from Tonganoxie, squads from South Dakota, Texas, Maryland and Utah will be in town as well.
Tournament director Ed Kimminau, state director for the softball association, said about 400 games will be played by the time the tournament ends July 22.
That sounds like a lot of softball for six days, but fastpitch softball is a much quicker game than baseball, which most casual sports fans may be more familiar with.
Jack Spahr, regional director of the softball association, said fastpitch softball games last seven innings and usually take about an hour to play.
"It's more of a spectator's game, I think, than baseball," Spahr said of fastpitch softball, noting that there are few lapses in the action.
One reason for that might be the difficulty involved in hitting a fast-moving fastpitch softball. Spahr said hitting in fastpitch softball is more difficult than baseball.
"They don't get as much time to see the ball," he said.
In amateur softball, the distance between the pitching rubber and home plate is 40 feet; in baseball, the distance is 60 feet, 6 inches.
That means a softball pitch that comes in at 65 mph - a good speed for pitchers in the 18-and-under division - would travel the distance from a pitcher's hand to the plate in the same amount of time as a 98.3 mph pitch in baseball.
Jack Rusk, coach of the 18-and-under Lawrence Phenix Rusk team that will play in the tournament, said dominant pitchers make for a speedy game.
"If you have pitchers who are accurate, it plays in a lot because you get a lot of strike outs," he said Wednesday while his team practiced at Broken Arrow Park.
Phenix Rusk second baseman Kalli McClure said hitting in fastpitch softball can be tasking.
"It's hard because you have all the different things going on," the rising Lawrence High School senior said. "You have to concentrate about getting your bat around and getting your hips squared and all of that and you also have to worry about what kind of pitch is coming."
There are a number of differences between fastpitch softball and baseball. For instance, base runners can't lead off in softball, and the softball field's dimensions are much smaller (the length between bases is 60 feet compared to 90 feet in baseball and home run fences are at least 225 feet from home).
But one of the more significant differences is the big, bright yellow ball that is used in softball for safety reasons and the fact that softball players aren't sporting caps on the field.
"We wear visors sometimes," Phenix Rusk pitcher Karen Spence said of softball players. "I think we look like dorks with hats on."
But that didn't matter when the Highland Community College pitcher was challenged by some of the school's baseball players. The baseball players thought they would be able to hit one of Spence's fastpitch softball deliveries.
"They didn't hit one," Spence said. "People think it's easy. ... It's not."
AFA "B" National Championship Tournament games begin Tuesday morning. Passes for the week cost $24 to $32 and daily passes cost $6 to $8.
Copyright 2017 The Lawrence Journal-World. All rights reserved. This material may not be published, broadcast, rewritten or redistributed. We strive to uphold our values for every story published.