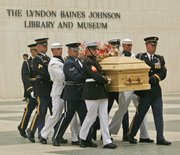 Austin, Texas — Lady Bird Johnson's wit, wisdom and love of beauty - in nature, in children and in democracy - were remembered Saturday as family, friends and presidents bade farewell at her funeral.
"It is unthinkable to me that she's gone. She was so much a part of our landscape, so much a part of our lives," Bill Moyers, a television host and former aide to President Lyndon Johnson, said at the service.
The former first lady died Wednesday at age 94 of natural causes.
Along with her devotion to preserving wildflowers and native plants, Lady Bird Johnson worked tirelessly for her husband's political career, Moyers said. He recalled her marathon stumping through the South during the 1964 presidential campaign amid anger that raged at Lyndon Johnson over his signing of the Civil Rights Act.
The first lady trudged on despite threats, hecklers and racist signs, Moyers said.
"Yes, she planted flowers," he said. "She also loved democracy and saw a beauty in it."
Former Presidents Bill Clinton and Jimmy Carter, first lady Laura Bush and former first ladies Rosalynn Carter, Nancy Reagan, Barbara Bush and Sen. Hillary Rodham Clinton attended the two-hour service at Riverbend Centre overlooking the Texas Hill Country.
Carter tapped his foot and President Clinton swayed slightly to the music as a gospel choir sang an upbeat number near the beginning of the ceremony.
Members of the University of Texas Longhorn Band finished off the service with a rousing rendition of the "Eyes of Texas," complete with many in the crowd of about 1,800 making the university's "hook 'em horns" sign with their fingers.
Lady Bird Johnson attended the University of Texas and was once a UT System regent. Her husband's presidential library is at UT-Austin.
Caroline Kennedy, Trisha Nixon Cox and Susan Ford Bales - daughters of former Presidents Kennedy, Nixon and Ford, respectively - also attended the funeral.
Johnson's daughters Lynda Johnson Robb and Luci Baines Johnson and three granddaughters shared personal stories about the former first lady, whom they called "Nini." They described her as an unselfish and gracious woman committed to her public duties and to her private family times.
"As you always told us, know that you are loved," Lynda Johnson Robb said, gesturing toward her mother's casket.
Copyright 2018 The Associated Press. All rights reserved. This material may not be published, broadcast, rewritten or redistributed. We strive to uphold our values for every story published.