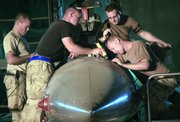 Balad Air Base, Iraq — Away from the headlines and debate over the "surge" in U.S. ground troops, the Air Force has quietly built up its hardware inside Iraq, sharply stepped up bombing and laid a foundation for a sustained air campaign in support of American and Iraqi forces.
Squadrons of attack planes have been added to the in-country fleet. The air reconnaissance arm has almost doubled since last year. The powerful B1-B bomber has been recalled to action over Iraq.
The escalation worries some about an increase in "collateral damage," casualties among Iraqi civilians. Air Force generals worry about wear and tear on aging aircraft. But ground commanders clearly like what they see.
"Night before last we had 14 strikes from B-1 bombers. Last night we had 18 strikes by B-1 bombers," Maj. Gen. Rick Lynch said approvingly of air support his 3rd Infantry Division received in a recent offensive south of Baghdad.
Statistics tell the story: Air Force and Navy aircraft dropped 437 bombs and missiles in Iraq in the first six months of 2007, a fivefold increase over the 86 used in the first half of 2006, and three times more than in the second half of 2006, according to Air Force data. In June, bombs dropped at a rate of more than five a day.
The increased air activity has paralleled the reinforcement of U.S. ground troops, beginning in February, to try to suppress the insurgency and sectarian violence in the Baghdad region. Simply keeping those 30,000 additional troops supplied has added to demands on the Air Force.
Copyright 2018 The Associated Press. All rights reserved. This material may not be published, broadcast, rewritten or redistributed. We strive to uphold our values for every story published.