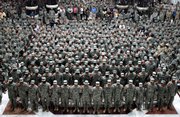 Baghdad — Attempts to pass a key oil law sought by the U.S. were snarled once more Wednesday by deep differences among Iraq's Sunni, Shiite and Kurdish leaders, delaying parliament debate despite the prime minister's claims of a breakthrough.
Despite heavy U.S. pressure, Prime Minister Nouri al-Maliki has struggled for months to get members of his coalition together behind the bill, part of a long-delayed political package that the Bush administration hopes will reconcile Iraq's Sunni Arab minority with the government, reduce support for the insurgency and ease the country's violence.
Parliament failed to start debate on the bill Wednesday, despite al-Maliki's announcement the day before that it would. The acting speaker, Khaled al-Attiya, said he expected it to be sent today to the legislature, where it would be put to a committee.
Al-Maliki said Tuesday that his Cabinet had unanimously approved a draft of the law, raising hopes that major progress had been made - President Bush phoned the prime minister to thank him for the step.
But almost immediately Sunni and Kurdish members of his coalition said they were not yet on board.
The influential Sunni organization, the Association of Muslim Scholars, issued a fatwa, or religious edict, blasting the bill as "religiously forbidden" and warned that those who back it "anger God for usurping public money."
Al-Maliki referred to the challenges facing his government during remarks at Fourth of July festivities at the U.S. Embassy but pledged to "continue to work hand in hand in cooperation to achieve our goals in Iraq."
"We are ready to take steps that will lead us to a brighter future where democracy will reign," he said.
Al-Maliki's allies hold a majority in parliament, but pushing the bill through without the support of all parties would undercut the wider aim of reconciliation.
Wrangling over the bill is so tough because it hits on the most contentious question over the future shape of Iraq - how to balance power between the central government and the country's regions, divided on sectarian and ethnic lines. The demands of each side - Shiite, Sunni and Kurdish - for the bill are far apart, and often mutually exclusive.
The law aims to regulate Iraq's oil industry and will determine the central government's role, and companion legislation that is nearly finalized sets how oil wealth will be distributed among regions.
Sunnis, centered in parts of the country with few proven reserves, fear Shiites and Kurds in the oil-rich south and north will monopolize profits from the industry - and so want a stronger federal role to ensure a Sunni say in how the fields are run.
The Kurds, in particular, want control of potentially lucrative future discoveries of reserves in their northern enclave.
Copyright 2018 The Associated Press. All rights reserved. This material may not be published, broadcast, rewritten or redistributed. We strive to uphold our values for every story published.