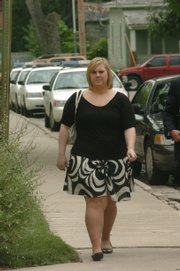 A former Lawrence High School English teacher pleaded guilty Monday to one count of aggravated indecent liberties with a child.
She could face between five and 20 years in prison for having sex with a male student.
During the court appearance Meredith Kane, 24, wiped away tears, admitting to the acts with the 15-year-old.
Prosecutors allege the acts occurred between August 2006 and mid-March. Kane was arrested March 16. The Lawrence school board voted not to renew her contract in May.
"During that time period, I did have sexual intercourse (with the victim) in Douglas County," an emotional Kane told Judge Stephen Six.
Another count of aggravated indecent liberties and two counts of criminal sodomy were dismissed.
"We agreed to take a plea in the matter," said District Attorney Charles Branson. "Simply put, she pled guilty to the most severe charge she could plead to. We're pretty happy being able to get a guilty plea to the primary offense."
The plea also prevented the victim from taking the stand, Branson added.
Kane's attorney, James Rumsey, asked for access to the victim's psychological records. A hearing set for 9 a.m. July 23 will determine whether Rumsey can see those files.
If obtained, the information will have a bearing on what the judge will review before Kane's sentencing, scheduled for 9:30 a.m. Oct. 12.
Rumsey said he also plans to file a motion asking the judge to consider a lesser sentence. Kane, who has no criminal history, declined comment.
"(The offense) is about as serious as it comes, quite frankly," Branson said. "You've got somebody that's in a position of authority over a child, that's abusing that authority one way or the other. : Because of that authority, we think (they) are especially egregious crimes."
Copyright 2018 The Lawrence Journal-World. All rights reserved. This material may not be published, broadcast, rewritten or redistributed. We strive to uphold our values for every story published.