-->
Three questions with ... Jim Pine of Pine's Fireworks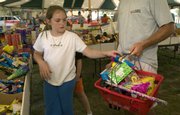 Kenzie Garvin, 10, and her 7-year-old brother, Peyton, were happy to get their hands on some fireworks Sunday.
They made the trip north of Lawrence with their parents, Jay and Amy, to the Pine family fireworks stand at Tee Pee Junction, near North Third Street and U.S. Highway 24-40.
"It's kind of like a water fountain," said Kenzie Garvin, while she held her favorite item.
Flying the American flag, spending time with family and lighting and watching fireworks are common ways to celebrate the Fourth of July.
The holiday falls on a Wednesday this year, which will influence how people celebrate. According to survey results released last week, AAA is projecting 41.1 million Americans plan to travel 50 miles or more this week, which would be a record for the Fourth of July. Also, 38 percent of travelers were expected to travel on or before the weekend and make up to a six-day stay out of the trip.
On Sunday afternoon, most Douglas County fireworks vendors seemed happy as their customers were already looking for items. County commissioners recently extended the time for selling fireworks here, which means stands could be open Sunday through Wednesday.
It is illegal to shoot fireworks in Lawrence but not the county.
Nick and Lisa Brown and their son, Nick Jr., stocked up on fireworks Sunday afternoon at Bartz Brothers Fireworks, near 31st Street and Kasold Drive.
"The bigger the better," Nick Sr. said.
They planned to see some friends Wednesday in Douglas County, where they will light their fireworks.
After scoring a basket full of goods at Pines' fireworks stand, the Garvins planned to travel Sunday evening to be with family in the McLouth area and have fun lighting them three days before Independence Day.
They plan to visit more family in the Kansas City area Wednesday before returning home to watch the night fireworks show in Lawrence.
"It's a good chance to spend time together with the family," Amy Garvin said of the holiday.
Of the major national travel that AAA has predicted for the holiday this week, 84 percent of travelers are expected to drive. The national average cost for gasoline has decreased 23 cents in the last month, although it is 14 cents higher than the average cost at this time in 2006, according to AAA.
Law enforcement officers and the Kansas Department of Transportation are asking travelers to plan enough time for their trips, and are warning against drinking and driving. Nationally, in 2005 during the Fourth of July holiday period, 245 people were killed in crashes involving alcohol, and 43 alcohol-related crashes happened in Kansas, according to KDOT.
For those who are in the Douglas County area for the holiday, several fireworks displays are planned, including the Lawrence Jaycees Fourth of July fireworks display, Lights Over Lawrence, at 9:45 p.m. Wednesday. The fireworks will be set off from the Kansas River levee across from Burcham Park.
Starting at 6 p.m., buses will drive to downtown parking lots to pick up and take people to the park, at Second and Indiana streets. The Journal-World will sponsor the free buses.
Area fireworks displays
Tuesday
¢ The Perry Lake Association will set off fireworks at 9:40 p.m. from the lake's dam northwest of Lawrence.
Wednesday
¢ Eudora Middle School parking lot, at dusk, 2635 Church St.
¢ De Soto school district's west campus stadium, 30 to 45 minutes after sundown.
¢ Lansing Business Center, half a mile east of the McIntyre Mann Carpet Store on East Gilman Road and Kansas Highway 7, 9:30 p.m.
¢ Baldwin City, the ball fields north of Baldwin High School.
Copyright 2018 The Lawrence Journal-World. All rights reserved. This material may not be published, broadcast, rewritten or redistributed. We strive to uphold our values for every story published.