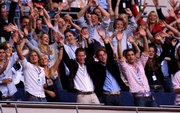 London — Waving their arms in the air and dancing with 70,000 fans at London's Wembley Stadium, Princes William and Harry celebrated the life of their mother, Princess Diana, on what would have been her 46th birthday Sunday at a concert they organized.
William, 25, rocked his hips as Canadian pop star Nelly Furtado belted out her song "Man Eater" - to the embarrassment of younger brother Harry, who shook his head and laughed.
Harry, 22, said they asked Elton John to play "Candle in the Wind," the song he sang at Diana's 1997 funeral in Westminster Abbey. Originally about Marilyn Monroe, its lyrics were reworked in tribute to Diana and it became a worldwide No. 1 hit that same year.
"This evening is about all that my mother loved in life: her music, her dance, her charities and her family and friends," William told the crowd, thanking them and millions more who watched the show on television.
Diana died Aug. 31, 1997, along with her boyfriend, Dodi Fayed, and their driver when their Mercedes crashed inside the Pont d'Alma tunnel in Paris with media photographers in hot pursuit.
Security for the event was increased after the discovery of two unexploded car bombs in central London on Friday and an attack on Glasgow airport on Saturday where a sports utility vehicle slammed into the main terminal and burst into flames. At least 450 officers patrolled the concert.
The concert mixed rock, pop, hip hop and classical ballet and featured some of Diana's favorite acts including Duran Duran and Tom Jones. In honor of her love of dance and theater, there was a performance of an extract from "Swan Lake" by the English National Ballet as well as songs by Andrew Lloyd Webber.
Among the 24 performances were songs by Rod Stewart, Kanye West, Joss Stone, Lily Allen and Sean "Diddy" Combs, who performed an emotive rendition of "Missing You" - a cover of The Police's 1983 "Every Breath You Take."
"Ten years ago, Princess Diana, she went to a better place, and today we celebrate her rebirth," Combs said. "I love you, Diana, we miss you."
Ex-British Prime Minister Tony Blair was among those who recorded a video greeting. His message was booed as he appeared on screen, but the crowd cheered when he paid tribute to William and Harry - the second and third in line to the British throne, respectively.
"I know their mother would be very proud of them," Blair said.
William's former girlfriend Kate Middleton attended the concert, further fueling rumors that the couple, who announced their split in April, have reconciled. William's Clarence House office has declined to comment on media reports that the two are back together.
Weeks of soggy weather lifted as the sun peeked out from behind gray clouds rolling over the newly built glass-and-steel stadium - Britain's largest - which usually hosts soccer games.
"This is not an exercise in nostalgia, this is a party!" director and actor Dennis Hopper said, introducing Allen, the British singing star who performed a cheery rendition of her chart-topper "Smile."
The crowd cheered as John played the piano and sang "Your Song" - and they were on their feet as the princes introduced Duran Duran.
"Pray for sun!" lead singer Simon LeBon told the crowd as the band broke into "Sunrise," followed by "Rio," which they dedicated to the late princess.
Harry added a special message for his army unit, currently serving in Iraq.
"I wish I was there with you. I'm sorry I can't be. But to all of those on operations at the moment, we'd both like to say stay safe," he said.
Harry, a second lieutenant in the regiment, was barred from going to Iraq for security reasons.
Copyright 2018 The Associated Press. All rights reserved. This material may not be published, broadcast, rewritten or redistributed. We strive to uphold our values for every story published.