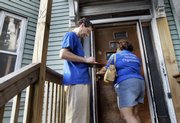 Boston — The goal was as audacious as it was simple: Plug the holes in Massachusetts' health care network without resorting to the politically nuclear option of a single government-funded program.
The result is a landmark insurance law praised as innovative, derided as a house of cards and touted by former Gov. Mitt Romney as he runs for president.
As of Sunday, nearly everyone in Massachusetts must be insured or face a series of increasing tax penalties.
The law won't result in universal coverage immediately, but the deadline is a critical mile marker.
"July 1 is really a call to action," said Leslie Kirwan, chairwoman of the Health Care Connector Authority Board, which oversees implementation of the law. "We are looking to insure people, not penalize them."
The law divides the population into three segments:
l The poorest, making less than the federal poverty level, are eligible for free care.
l People making slightly more, up to three times the federal poverty level, can enroll in state subsidized plans.
l Those making more than three times the federal poverty level - at least $30,630 for an individual and $61,950 for a family of four - can choose their own coverage from new, lower-cost private plans, if they aren't already insured through work.
Massachusetts' health care experiment could spur or slow health care reform efforts nationally depending on its success or failure, said Drew Altman, president of the Kaiser Family Foundation, which studies health policy.
Key to that success is whether average people embrace the idea of an "individual mandate" - the requirement that they obtain health care.
"It has huge implications for other states, but even more importantly for the push for health care reform building nationally," said Altman. "It's the first real-world test of this idea of an individual mandate. This idea is either going to build steam or lose a lot steam."
Amy Cassidy and her family have already taken advantage of the new law.
Cassidy, 38, provides day care and her husband runs a small flooring operation. Before the law, they were spending more than $1,200 a month on health care for themselves and their two small children.
Now, Cassidy said, they spend about $969 a month with a policy purchased through the Connector, a $250 savings.
"That's grocery money," she said. "But I still haven't had to use it yet. It hasn't been put to the test."
The state already has enrolled about 130,000 formerly uninsured people in health care plans, virtually all of them in the free or subsidized plans.
The far more challenging task is persuading the estimated 160,000 still uninsured residents not eligible for subsidized plans to pay monthly premiums. Even the lower cost plans can run several hundred dollars a month.
And while one recent poll found nine out of 10 residents were aware of the health care law, 49 percent said residents shouldn't be required to buy insurance.
Copyright 2018 The Associated Press. All rights reserved. This material may not be published, broadcast, rewritten or redistributed. We strive to uphold our values for every story published.