Los Angeles — Sidney Sheldon, who won awards in three careers - Broadway theater, movies and television - then at age 50 turned to writing best-selling novels about stalwart women who triumph in a hostile world of ruthless men, has died. He was 89.
Sheldon died Tuesday afternoon of complications from pneumonia at Eisenhower Medical Center in Rancho Mirage, said Warren Cowan, his publicist. His wife, Alexandra, and his daughter, author Mary Sheldon, were by his side.
"I've lost a longtime and dear friend," Cowan said. "In all my years in this business, I've never heard an unkind word said about him."
Sheldon's books, with titles such as "Rage of Angels," "The Other Side of Midnight," "Master of the Game" and "If Tomorrow Comes," provided his greatest fame. They were cleverly plotted, with a high degree of suspense and sensuality and a device to keep the reader turning pages.
Analyzing why so many women bought his books, he commented: "I like to write about women who are talented and capable, but most important, retain their femininity. Women have tremendous power - their femininity, because men can't do without it."
Sheldon was obviously not aiming at highbrow critics, whose reviews of his books were generally disparaging. He remained undeterred, promoting the novels and himself with genial fervor. A big, cheerful man, he bragged about his work habits.
Unlike other novelists who toiled over typewriters or computers, he dictated 50 pages a day to a secretary or a tape machine. He corrected the pages the following day, continuing the routine until he had 1,200 to 1,500 pages.
"Then I do a complete rewrite - 12 to 15 times," he said. "I spend a whole year rewriting."
Several of his novels became television miniseries, often with the author as producer.
Sheldon began writing as a youngster in Chicago, where he was born Feb. 17, 1917. At 10, he made his first sale: $10 for a poem. During the Depression, he worked at a variety of jobs, attended Northwestern University and contributed short plays to drama groups.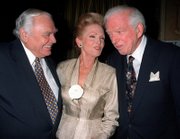 At 17, he decided to try his luck in Hollywood. The only job he could find was as a reader of prospective film material at Universal Studio for $22 a week. At night he wrote his own screenplays and sold one, "South of Panama," to the studio for $250.
During World War II, he served as a pilot in the Army Air Corps. In the New York theater after the war he established his reputation as a prolific writer. At one time he had three musicals on Broadway: a rewritten "The Merry Widow," "Jackpot" and "Dream with Music." He received a Tony award as one of the writers of the Gwen Verdon hit "Redhead." His Broadway success brought about his return to Hollywood.
His first assignment, "The Bachelor and the Bobbysoxer," starring Cary Grant, Myrna Loy and Shirley Temple, brought him the Academy Award for best original screenplay of 1947.
While under contract to MGM, he recalled in 1982, "I worked like hell and I never stopped. Dore Schary (then production head) one day looked at a list of MGM projects. I had written eight of them, more than three other writers put together. That afternoon, he made me a producer."
With the movie business hurting because of television's popularity, Sheldon decided to try the new medium.
"I suppose I needed money," he remembered. "I met Patty Duke one day at lunch. So I produced 'The Patty Duke Show' (in which she played two cousins), and I did something nobody else in TV ever did. For seven years, I wrote almost every single episode of the series."
Another series, "Nancy," lasted only a half-season, but "I Dream of Jeannie," which he also created and produced, lasted five seasons, 1965-1970.
Copyright 2018 The Associated Press. All rights reserved. This material may not be published, broadcast, rewritten or redistributed. We strive to uphold our values for every story published.