Washington — Former White House press secretary Ari Fleischer testified Monday that he learned the identity of a CIA operative from vice presidential aide I. Lewis "Scooter" Libby over a lunch in the White House mess July 7, 2003 - three days before Libby has said he first heard about Valerie Plame.
Fleischer was the fifth government witness in the perjury and obstruction trial to contradict Libby's account, but unlike the fuzzy recollections of some previous witnesses, his testimony was firm and specific.
The former presidential spokesman, testifying under a grant of immunity, said that Libby, then Vice President Dick Cheney's chief of staff, appeared to know that he was passing along sensitive information. "I believe he mentioned her name and said something like, 'This is hush-hush, this is on the Q-T, not very many people know this,' " he said.
Fleischer's testimony appeared to aid the government's attempt to depict Libby as stealthily exchanging information about Plame as part of a campaign to discredit her husband, former envoy Joseph C. Wilson IV, an administration war critic.
The lunch came one day after Wilson published an op-ed in The New York Times that accused the White House of twisting the intelligence it used to go to war in Iraq. Wilson wrote of a CIA-sponsored trip he took to Niger in 2002 that he said refuted claims that President Bush made in the 2003 State of the Union address that Iraq was seeking nuclear weapons material in that country.
Plame apparently attracted the attention of the White House because it was believed that she was involved in the CIA decision to send her husband to Niger, which raised nepotism issues that could be used to discredit Wilson. Wilson had claimed in his op-ed that Cheney was responsible for sending him to Africa, which the White House denied.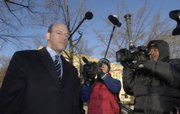 Plame's identity was first made public by syndicated columnist Robert Novak on July 14, 2003, but Libby was not the source of the tip. Former State Department official Richard Armitage has admitted he mentioned Plame and Wilson to Novak, but he has not been charged with a crime. Libby is charged with lying and obstructing the investigation into the source of the leak.
Prosecutors allege that Libby lied when he told investigators that he first learned about Plame through reporters including a July 10 conversation with "Meet the Press" moderator Tim Russert. Fleischer joined a series of government witnesses who have testified as having discussed Plame's CIA employment with Libby up to a month earlier.
Copyright 2018 The Lawrence Journal-World. All rights reserved. This material may not be published, broadcast, rewritten or redistributed. We strive to uphold our values for every story published.